Online business model generation platform new features
New features have been released for SimVenture Validate, our online business model generation platform which helps individuals develop their business ideas into viable startups.
The online business model generation platform, SimVenture Validate, is regularly updated with new features, and we are delighted to share the latest release with you.
Whether you are an educator, student, or professional using SimVenture Validate, these new features are already within the platform for you to explore and have been added to enhance your overall user experience. The new features include:
To see how each of these new features work, we've added additional information and screenshots in the article below. We hope this information helps, and most importantly, we hope you enjoy the new features.
---
View progress quickly within each section of SimVenture Validate
Progress logic has been added into each sub-section within the ideation, canvas, and testing areas of SimVenture Validate giving users a quick snap-shot view of how much work they have completed.
The new feature appears as a ring chart which can be found at the bottom of the left-hand menu within each section of the platform.
The example below is of the ideation section, where users are walked through a step-by-step process to develop new business ideas. You can see the progress made (currently at 0%) is displayed under the steps required within this section. As users can create multiple new business ideas within SimVenture Validate, the section progress is linked to each new business idea created.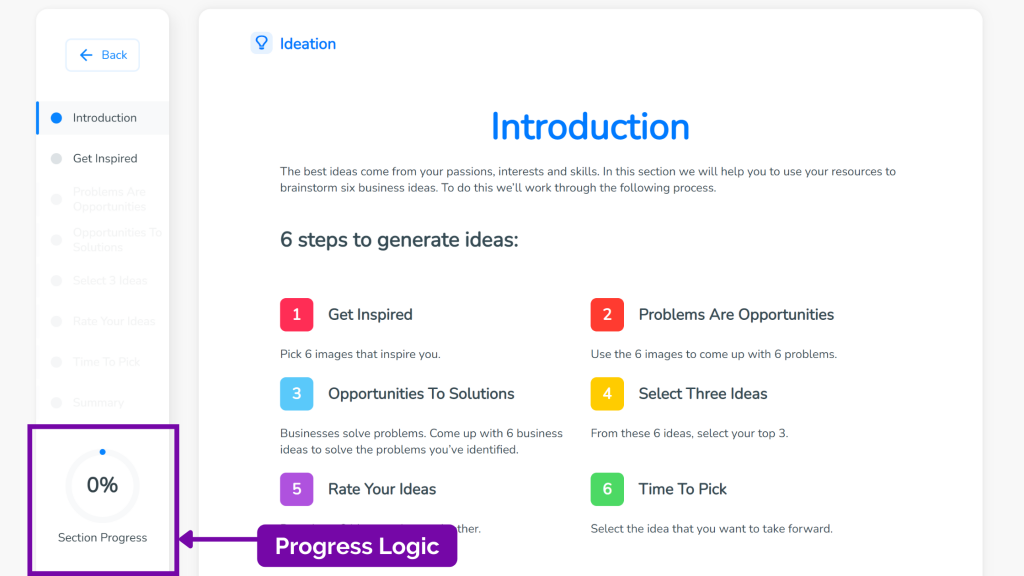 As for the Business Model Canvas, the progress logic sits within the sub-sections of each BMC block. For example, the image below displays a user who has clicked on the Customer Segments block of the Business Model Canvas and who has completed 50% of the work involved in this section.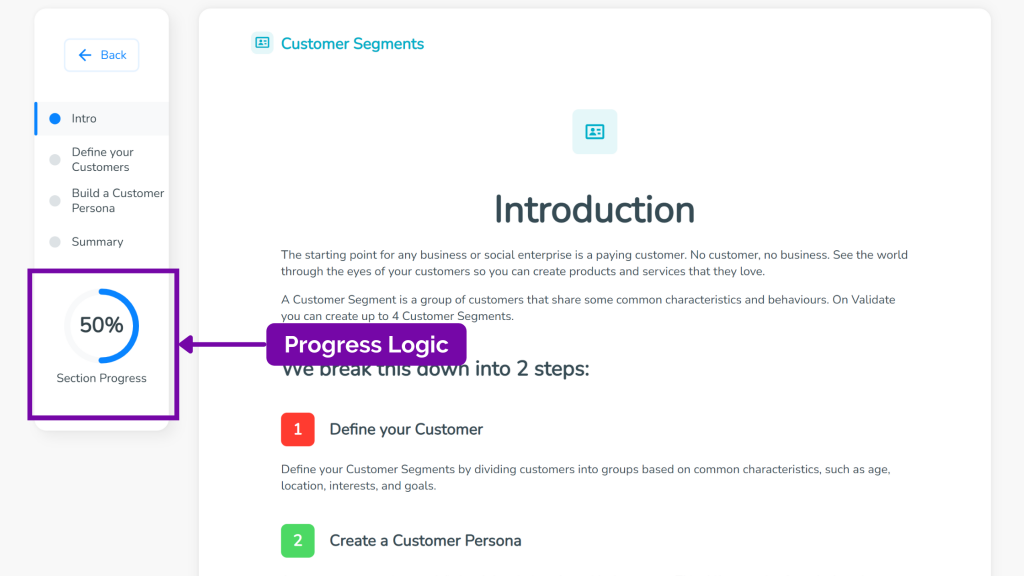 The same functionality is available for each test created within the testing section of SimVenture Validate. Like the ideation section of SimVenture Validate where multiple business ideas can be created, the testing section allows users to create multiple tests where critical assumptions made within the business model canvas are identified and analysed. Each test will have its own progress logic as displayed in the image below.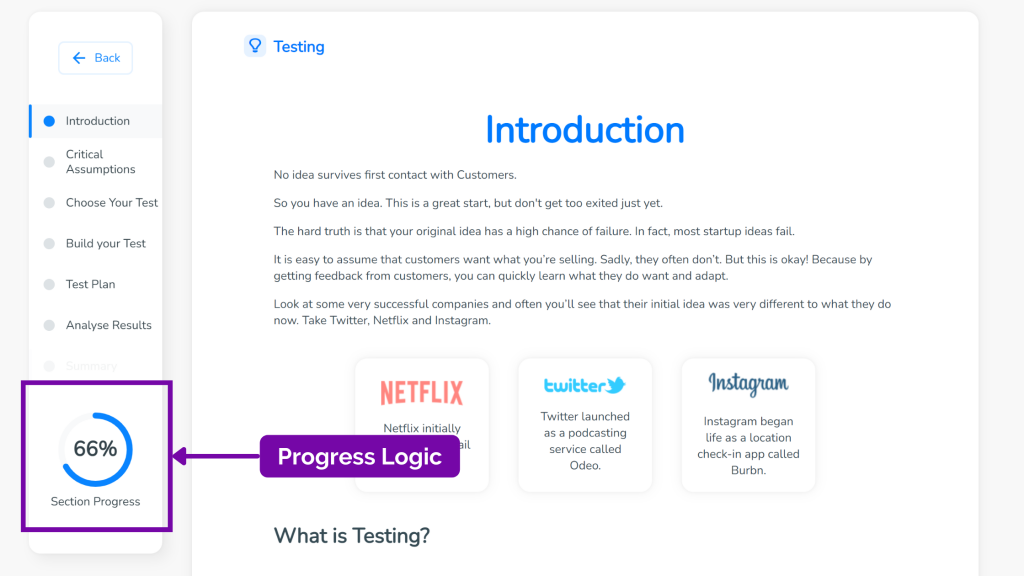 ---
Crop and resize images in the online business model generation platform
SimVenture Validate has now released an in-built image resizer and cropper, allowing you to adjust uploaded images according to your preference. This makes it even easier to create an attractive looking business portfolio to share with friends, family, customers, or even investors.
To crop or resize an image in SimVenture Validate all you need to do is upload an image. Once your image has been uploaded the image settings window will automatically appear. This window allows you to crop and/or resize the image by dragging and dropping the image or by moving the slider at the bottom of the window as shown below.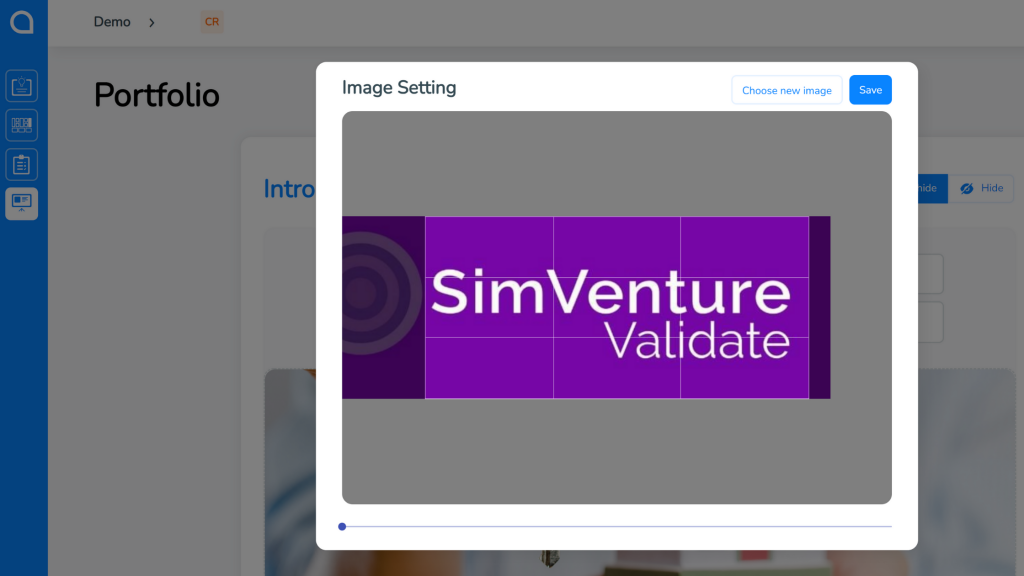 ---
It's easier to see your chosen business ideas
In step five of the ideation section of SimVenture Validate, users are asked to narrow down their six business ideas to just three by answering the questions:
While this change might not be that noticeable, the design of the blocks has improved to make your business idea selections much easier to view. Previously, your selected business ideas would just be highlighted, but now your ideas are highlighted with overlapping text so you can quickly see which idea links to the question you've answered.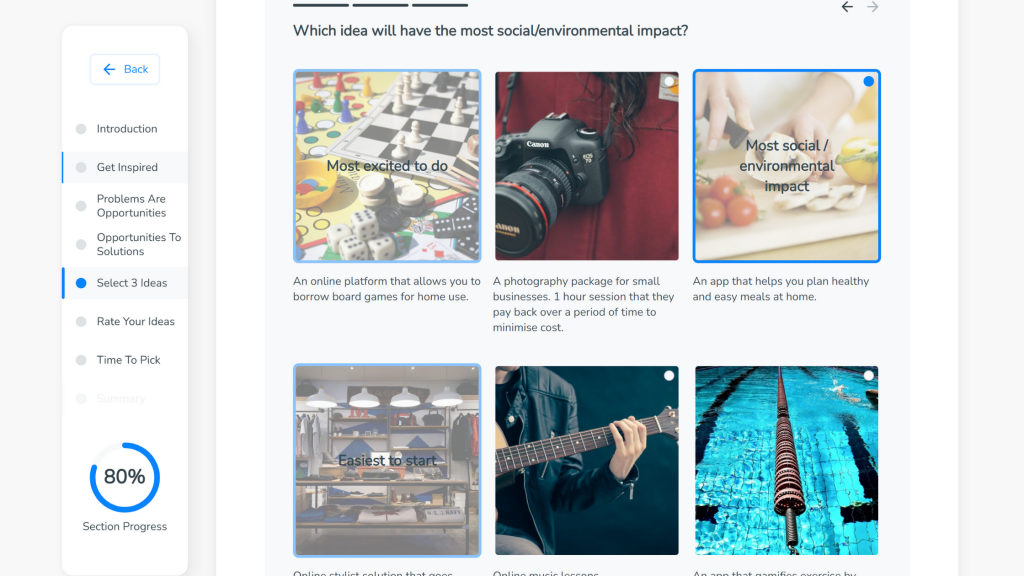 ---
Upload files to your business portfolio
Often when educators use SimVenture Validate, the portfolio created by users within the platform is used for assessment purposes alongside other academic requirements. This new file upload feature which is found within the Portfolio section of the platform and sits under the Project Summary, allows users to upload additional documents. For example, you may need to submit a reference list, a written essay, additional information about your start-up's financials, a pitch deck, or maybe even a graph or image – whatever the additional academic requirement is, these extra items can now be contained within the SimVenture Validate Portfolio and shared as a web link or PDF.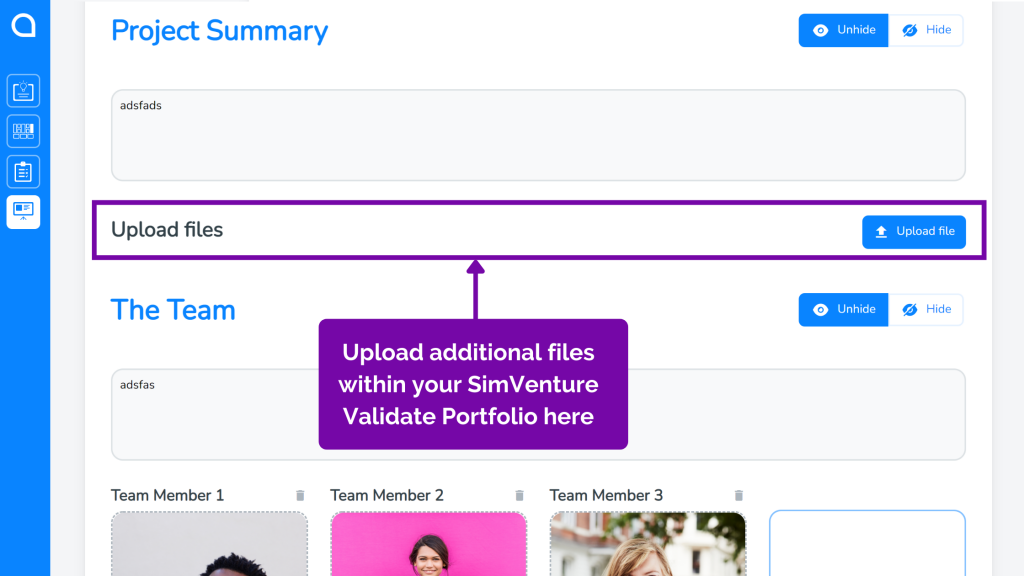 ---
Administrators can now create classes
If you are a SimVenture Validate administrator for your education institution or company, this new feature is for you.
Previously, only educator accounts within SimVenture Validate had the ability to create classes and add additional educators to these classes. This functionality has now been rolled out to administrator accounts too. This means that by logging into your administrator account, you will be able to create classes for your employees or students to join, and you can also add other educators from across your education institution or company to join these classes if you are working together.
To view this new feature, simply login to your SimVenture administrator account and go to the admin panel. Once you are in the admin panel, the new classes you have created will be listed under the registered educators for your company or institution. To add a new class, simply click the 'Add New Class' button in the bottom right-hand corner of the screen.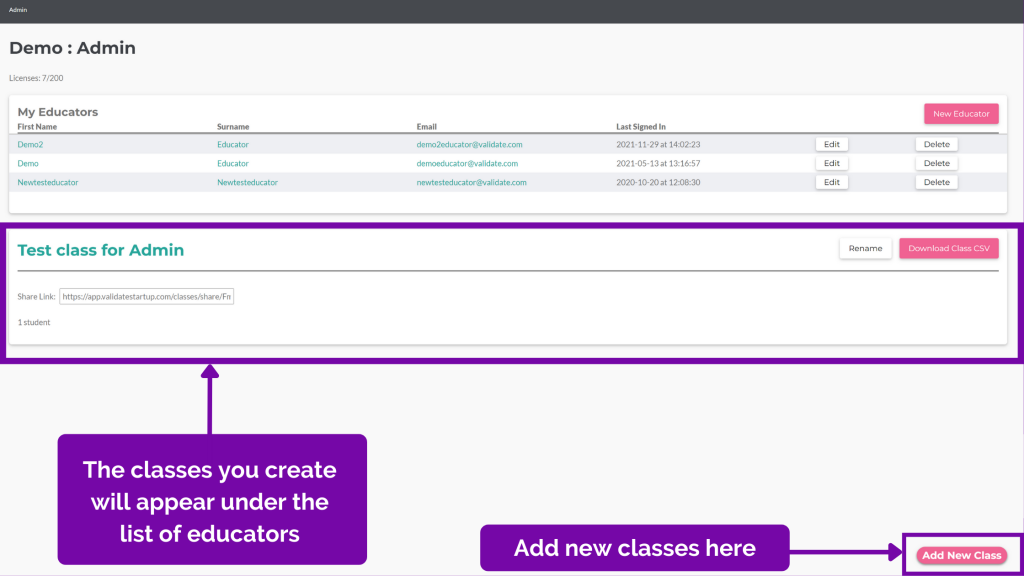 ---
We hope you enjoy the latest SimVenture Validate features and thank you for all of your wonderful feedback and support so far.
Remember, if you have any development suggestions for SimVenture Validate, we would love to hear from you. Please do get in touch with our team today.
For further SimVenture Validate resources, visit our resources page here or visit our brand new SimVenture YouTube Channel here.
---
Liked this blog post? You may enjoy these articles too.