The Validate 2023 release is coming soon with in demand features such as messaging for both students and educators, a brand-new suite of designs available for learners' startup portfolios, plus the ability to export work to Microsoft Word.
The latest updates to our highly popular startup ideas platform will hit your screens this September.
All features have been added thanks to the meaningful feedback we received from our users and clients.
Here's a quick snapshot of what to expect, but keep reading to get a sneak peek of what these powerful new features for the Validate 2023 release will look like:
Messaging feature goes live in the Validate 2023 release
You asked and we answered – the messaging feature is coming to Validate this September 2023.
This feature will be available to all users including educators, admin, and students, and will be linked to the startup project portfolios area within Validate.
As a result, learners will be able to communicate with their team members and educators from within the Validate Portfolio.
Similarly, educators will be able to offer their learners feedback or answer questions from the admin area of the startup ideas platform.
Customisable startup portfolio designs
Ideal for learners with a creative flair, Validate users will soon have the ability to customise the design of their startup portfolios.
With four attractive design templates to choose from, learners will have the ability to choose their layout, colour combinations, font style and font colours.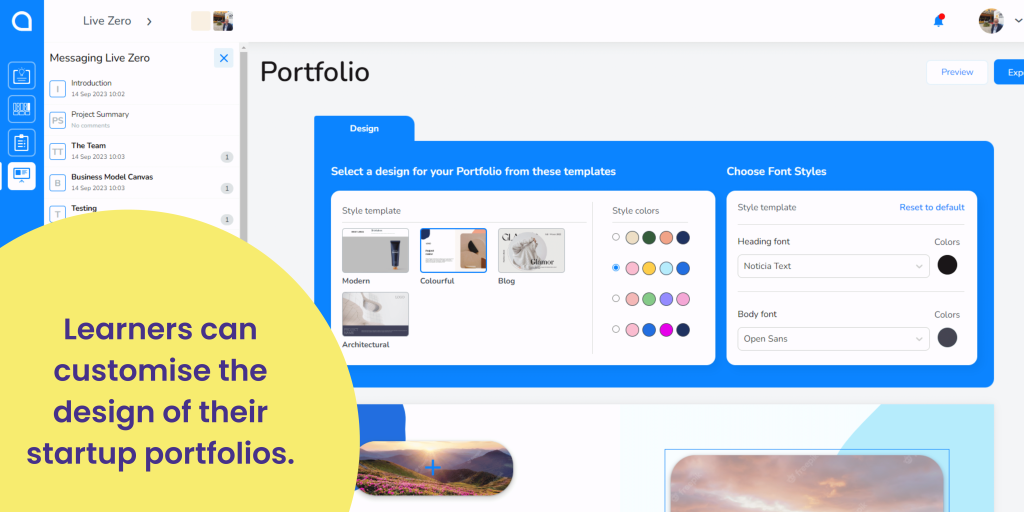 This customisation section will automatically be available for all learners from the Portfolio section of Validate.
Export Validate portfolio to Microsoft Word
Another feature requested by clients, was the ability for learners to export their Validate portfolios to Microsoft Word. We're thrilled to announce that the wait is almost over, and this popular feature will be available in the Validate 2023 release!
Learners can access this feature in the Portfolio area of Validate via the 'Export' button.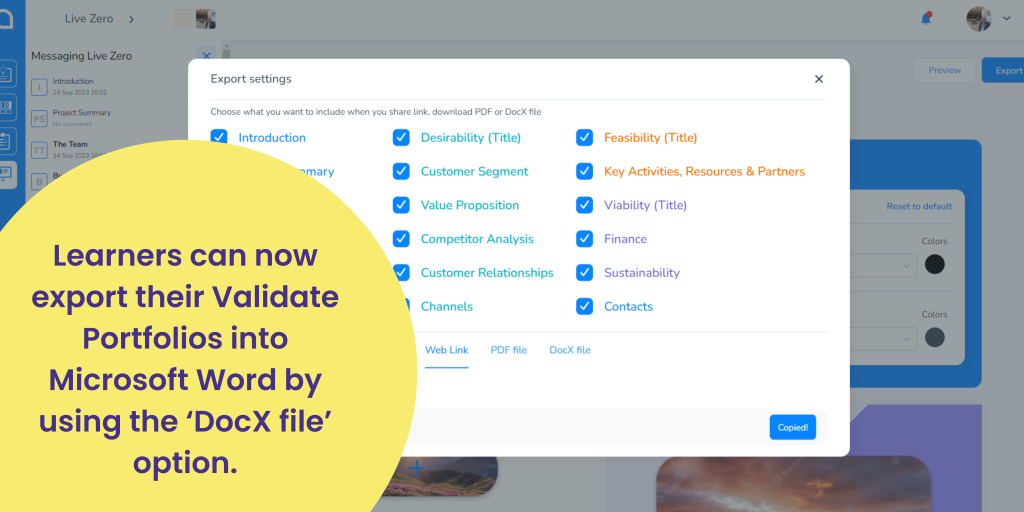 From the Export window, learners can select what sections of their startup portfolio to download and in what format (web link, PDF, or DocX). DocX is the newest option that will export the portfolio to Microsoft Word, allowing learners to continue to edit their work offline and outside of Validate.
This is an ideal feature if learners are required to add additional information such as a reference list for assessment purposes, or would like to create their own PowerPoint presentation or pitch deck.
---
These three new major features will automatically go live for all current users of Validate this month. We will also be announcing some online events in the coming weeks so you can tour the latest version and ask any questions you may have.
In the meantime, if you have any questions at all, you can contact our Validate support team direct via validate@simventure.co.uk or your dedicated Learning Development Manager.
We hope you're as excited as we are about the Validate 2023 release and look forward to hearing your feedback about the new features!