Explore the latest updates to our advanced online business simulation before they go live this month in our 2023 release of Evolution.
Continuous improvement is vital to our team at SimVenture and things are no different when it comes to our business learning software.
Thanks to the ongoing feedback we receive from educators and learners who use Evolution, our tech team has been working over the past year to make further improvements to our world-class business sim.
Updates launched in the Evolution 2023 release will include:
Keep reading to find out more and to preview the latest business simulation updates before they go live this month.
---
Programmes in Evolution 2023
Programmes are a new feature being launched in the Evolution 2023 release, which will allow learners to follow a complete programme of activities. In comparison to the current version of our advanced business simulation that only offers individual simulation activities, programmes can contain much more including documents, videos, and quizzes to enhance the learning around the simulation activities.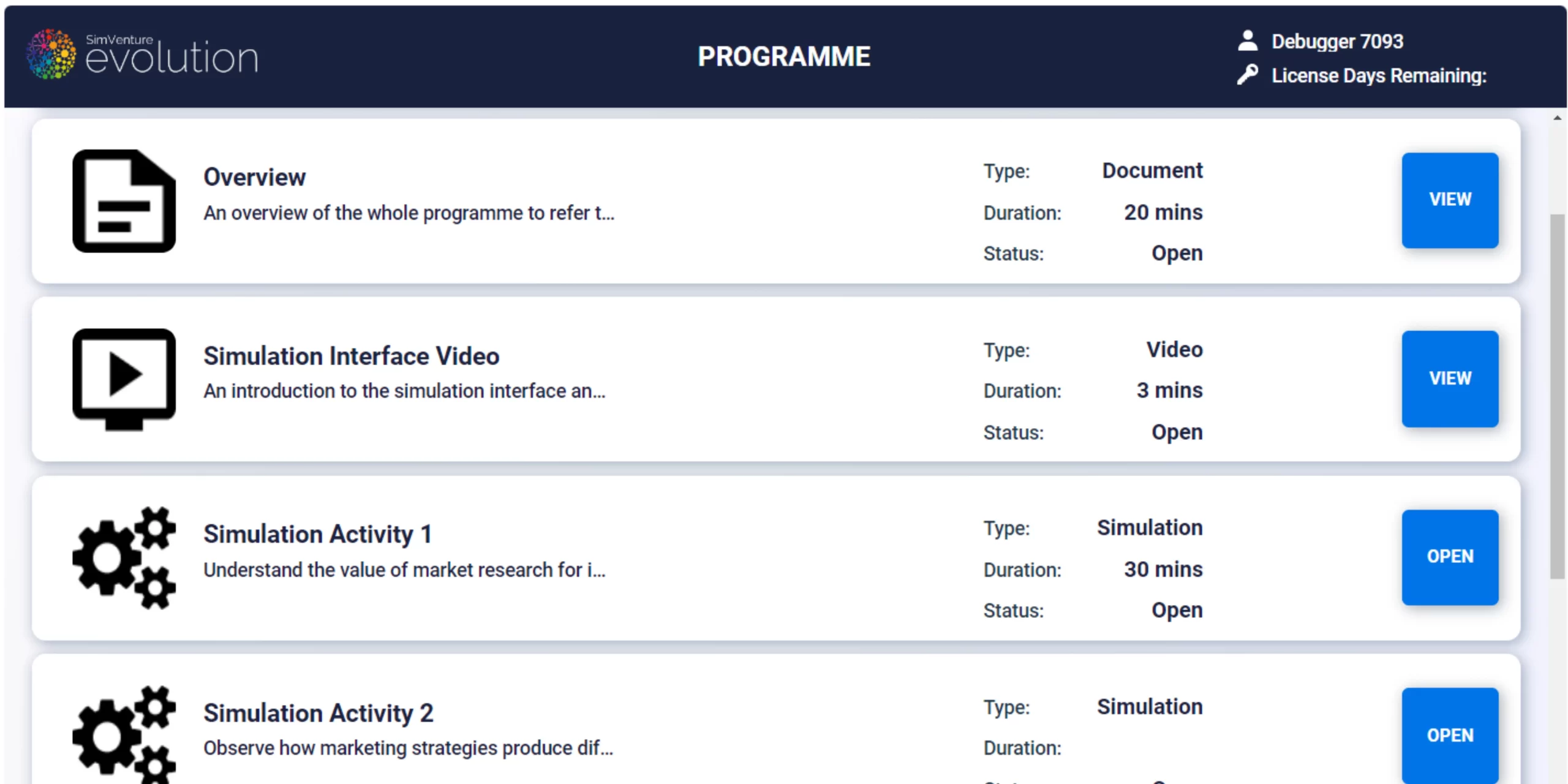 Although you won't see this new functionality in Evolution immediately, we are working hard to create a suite of new programmes covering a range of topics. Programmes can be assigned to a group of learners in minutes, simplifying the educator's job within Evolution. Educators will also be able to monitor the progress of their learners throughout the assigned programme.
Accessibility improvements to Evolution
With equality, diversity and inclusion being at the core of our company values and a major focus for many of our clients, our development team has been working hard this year to improve the accessibility aspects of Evolution so more users can experience the simulation than ever before.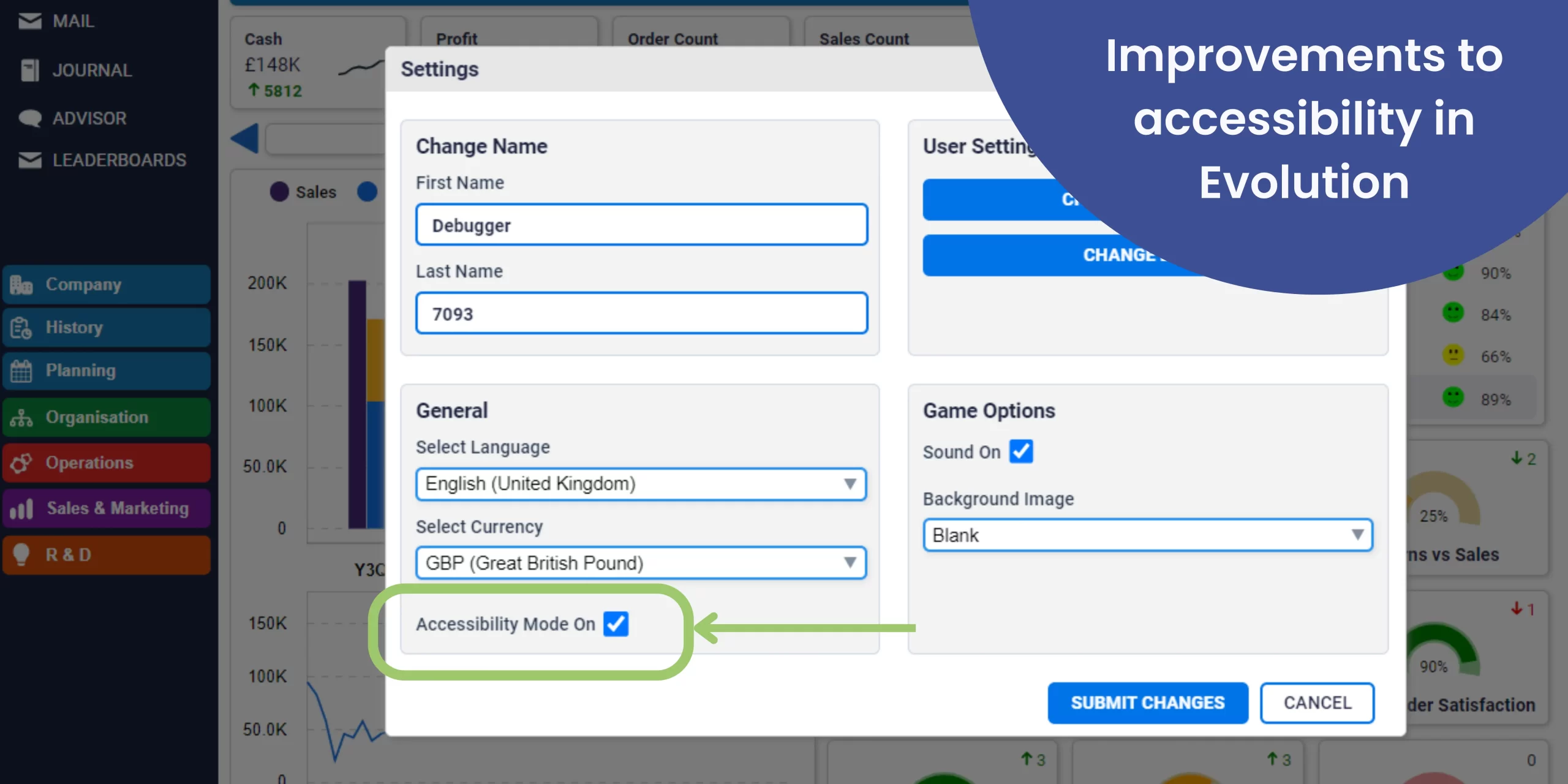 Our aim is to comply with the Web Content Accessibility Guidelines (WCAG) 2.1, a standard that is widely adopted across the internet to make content more accessible to a wider range of people with disabilities. This standard sets out three levels of compliance and our goal is to reach level AA in all areas where applicable for an application like Evolution. If you would like more information on the work that has been completed in this area to-date, please don't hesitate to get in touch directly with our technical support team.
Interactive scenarios launching in Evolution 2023
Behind-the-scenes our development team has been creating a powerful new engine that will allow interactive and guided learning experiences to be built in Evolution.
Providing guided prompts and contextual information, interactive scenarios will take learners on a journey through the simulation. This will help students learn more effectively whilst simultaneously taking away some of the barriers that people brand new to the online business simulation face.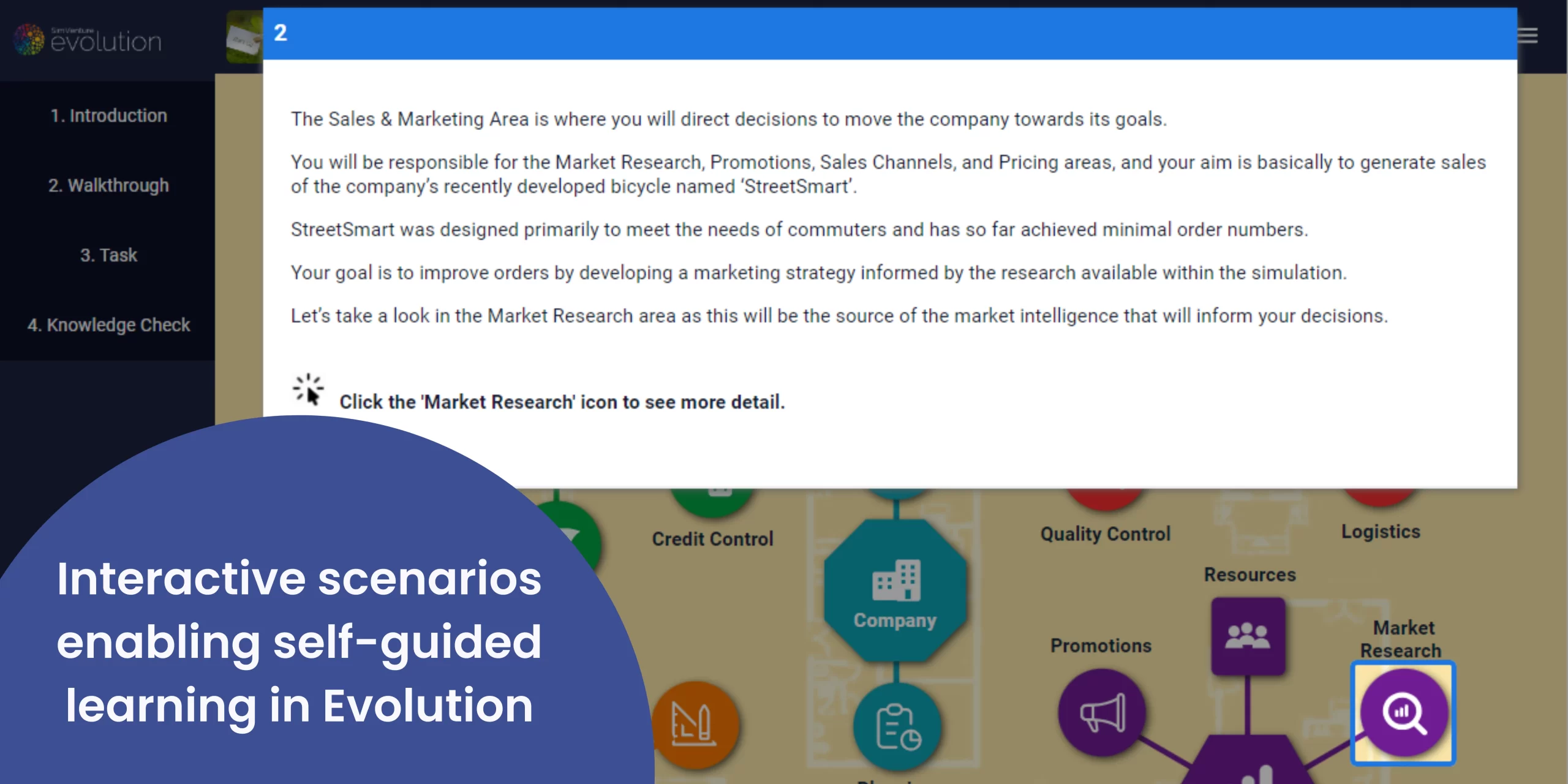 New decisions tab added to business simulation
In the latest release of Evolution, learners will be able to clearly see the decisions they have made in each quarter of the business simulation in the brand-new 'Decisions' tab that has been added to the history section. This are of Evolution mirrors the list of changes that are displayed on the final check screen before each quarter is run and aims to support learners in being able to better analyse their decisions.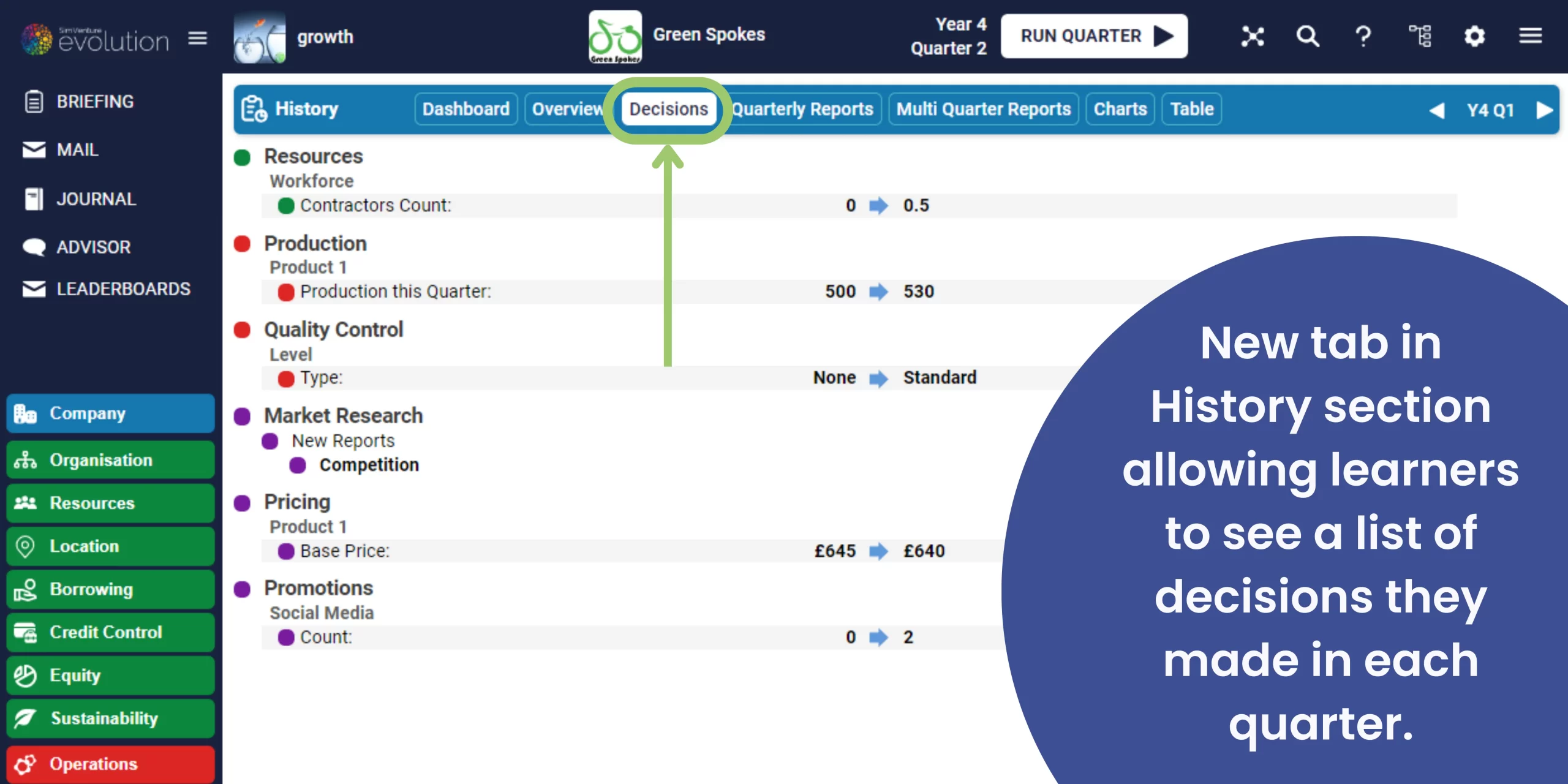 Refreshed market research reports in Evolution 2023
The market research reports have been refreshed in the 2023 release of Evolution. These reports are now in-line with the modern appearance of our user interface and use a variety of visual tables and charts to communicate information.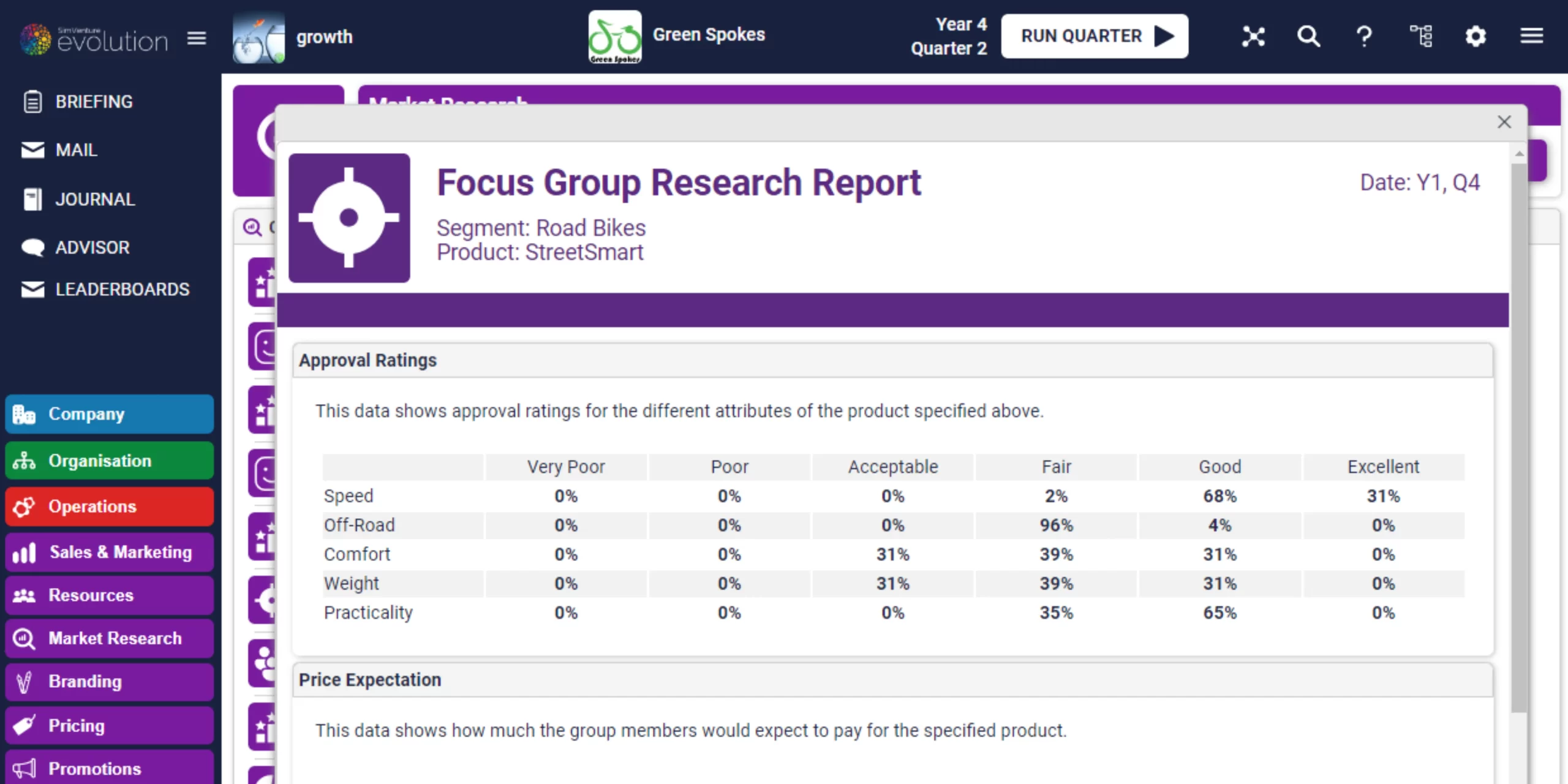 Leaderboard updates in Evolution 2023
A few changes have been made to the leaderboard in this latest release. Firstly, learners can now access the Leaderboard quicker and easier than ever before with a button being added to the navigation bar on the left.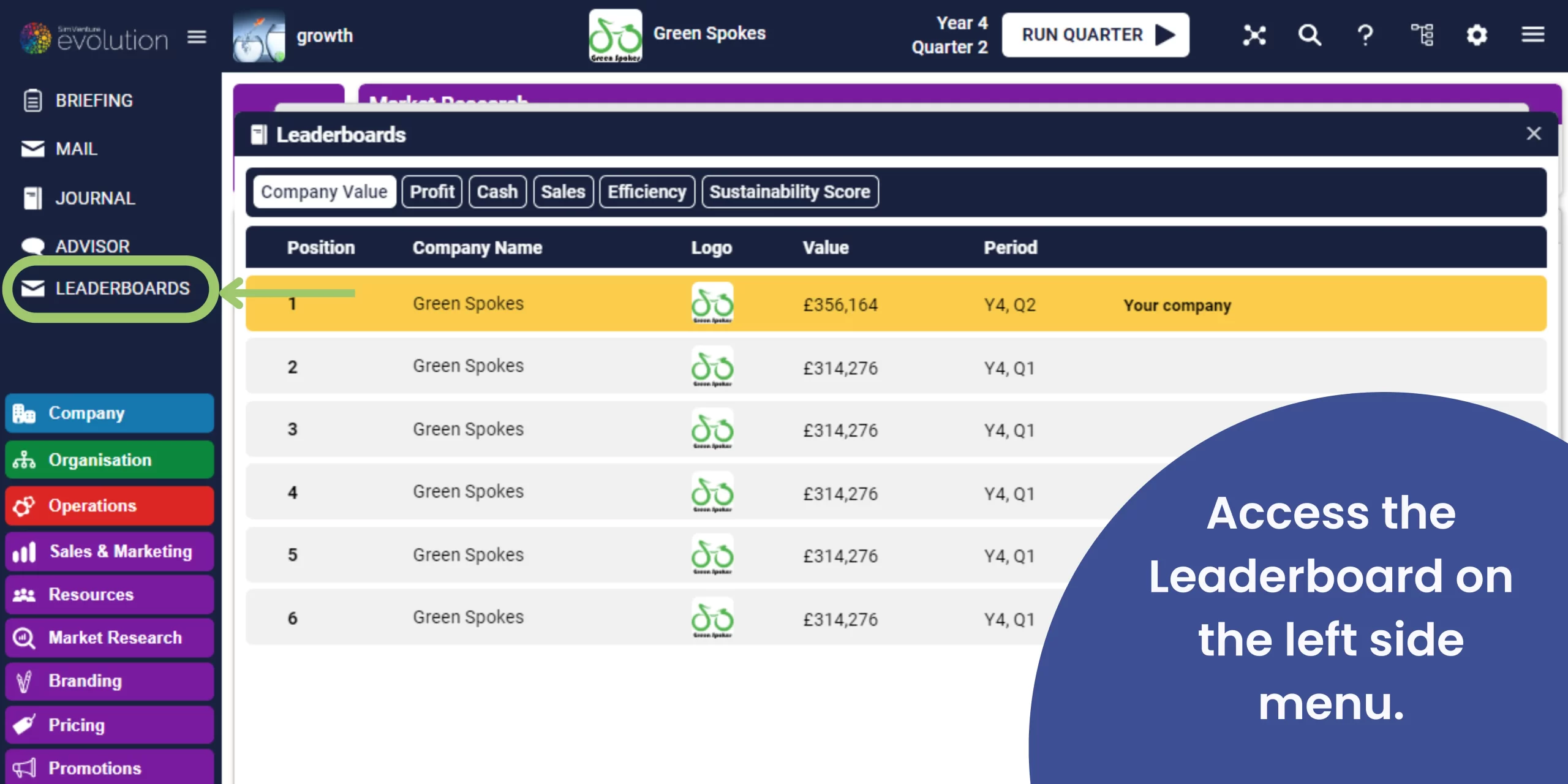 The profit and sales figures in the Leaderboard have also been altered to show total values across all quarters rather than solely the latest month.
Lastly, our development team has added a new data item to the Leaderboard to show the directors' share value, which is the share of company value not already sold for equity. This value is ideal for assessing company performance in business simulation competitions.
---
While many of these updates will be unseen to most users and clients, we hope you'll be excited about the possibilities these developments will create for the future of Evolution in learning and teaching environments.
While we will be hosting upcoming webinars to walk you through these latest business simulation updates, please don't hesitate to reach out to our Evolution support team with any questions you may have. We can't wait to hear your feedback!