How to log in to SimVenture Validate
A simple step-by-step guide on how to log in to SimVenture Validate for the first time.
If your institution or workplace has offered you a SimVenture Validate user account to help you ideate, map, test, and share your business ideas, here are the steps to follow to log in to the platform for the first time.
If you'd like to read more on any of these steps, keep scrolling down this page for detailed instructions and images to help guide you through the signup process.
---
Step One: Log in by clicking your unique class link
To log in to SimVenture Validate, you will be provided with a unique URL from your educator or programme manager. You must use this unique link to create your SimVenture Validate user account.
By using this unique link you will be able to share SimVenture Validate projects with people in your university module, business accelerator programme, or your workplace.
---
Step Two: Create your SimVenture Validate account
Enter your details in the 'Create your account' section.
Please note: The email address is case sensitive. Enter your email exactly as it appears in your email account, so you can join a team or retrieve your password simply if you forget it.
Press the 'Create account' button.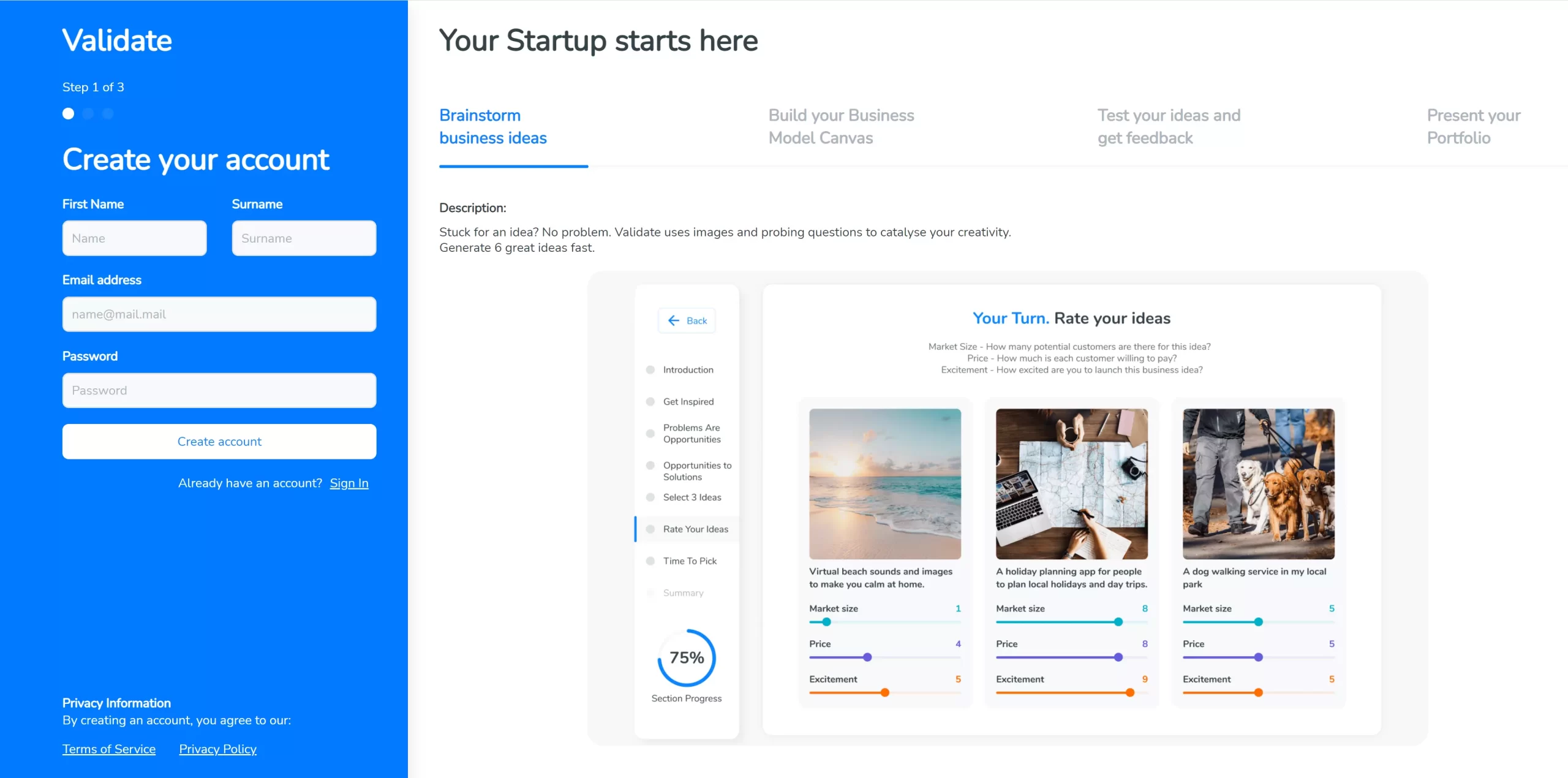 ---
Step Three: Enter a project name that will appear when you log in
The Project Name is the title of the first project you create in SimVenture Validate. Choose a Project Name that means something to you – it could be a team name or the name of an existing business idea you have. You must however enter something in this field, otherwise you won't be able to continue. You can also change the name of your project at any stage, so if you're unsure of your project name just enter 'Project 1' in this field and carry on.
Press the 'Create Project' button to continue.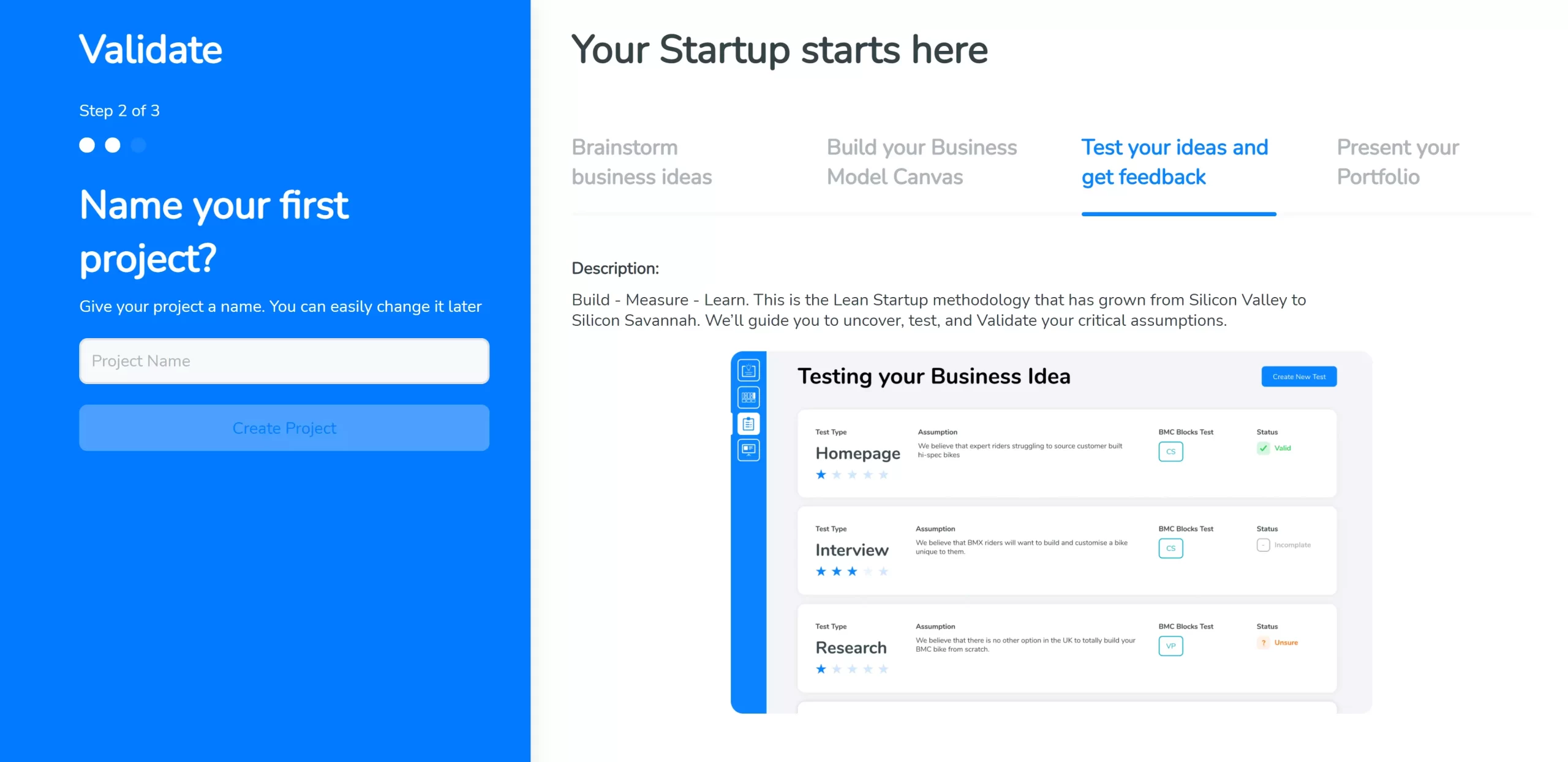 ---
Step Four: Do you have a business idea?
The next screen asks you whether or not you already have a business idea.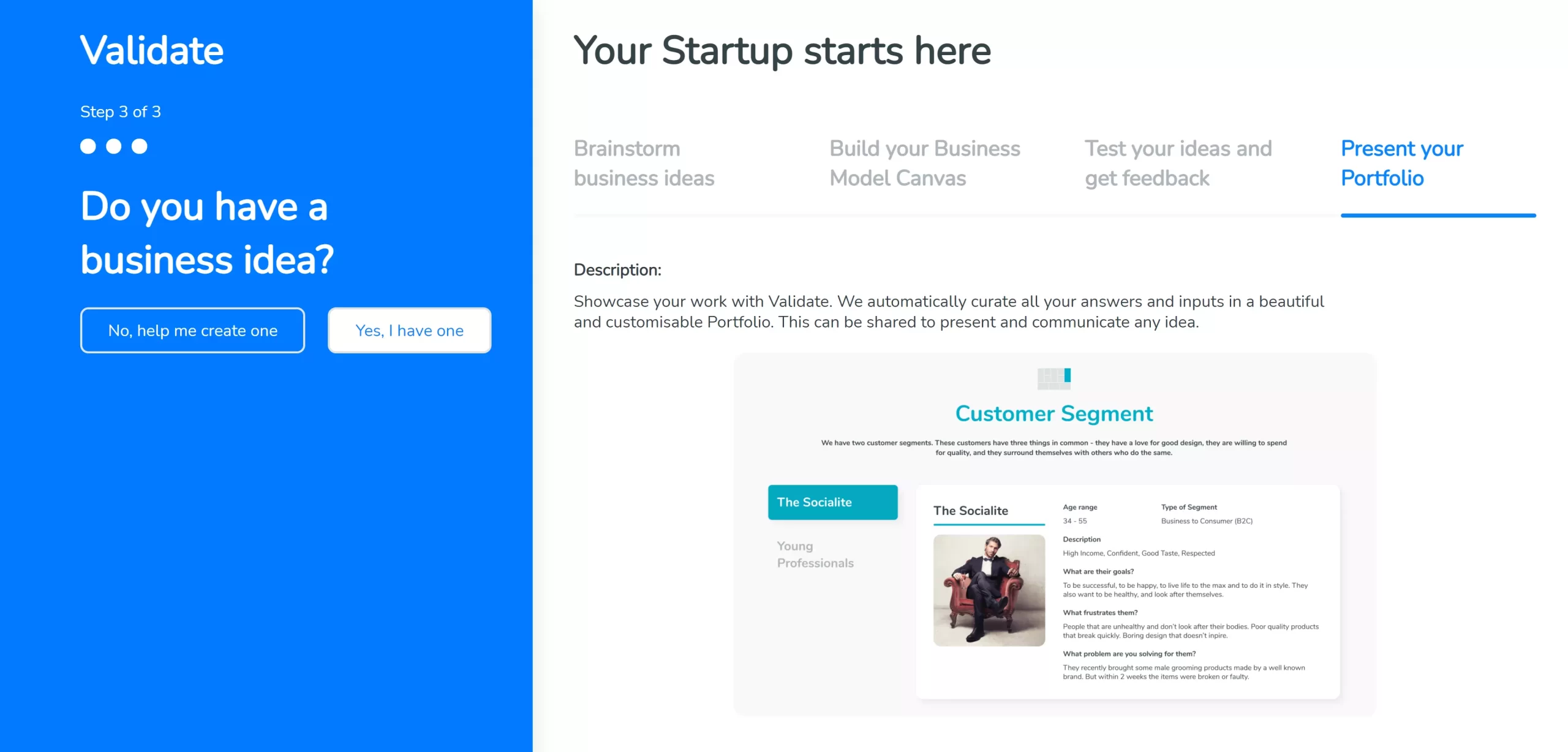 Your answer will determine your starting place when SimVenture Validate opens, however you will still be able to access all four sections of the platform no matter where you start. The platform sections are: Ideation, Canvas, Testing, and Portfolio. You can always flip back and forth between these sections as and when you need them.
If you select 'No, help me create one', the Ideation section will open first. This section will help you ideate real world problems and solutions, and decide on a business idea to explore further. You can of course ideate as many business ideas as you like.
If you select 'Yes, I have one', the Canvas section will open first. The Canvas section allows you to map out a Business Model Canvas for your business idea. It even has an additional block in the Business Model Canvas for sustainability. Don't worry if you don't know about the Business Model Canvas yet, SimVenture Validate will guide you through every step in the process.
---
Now you are logged in to SimVenture Validate!
After these four steps, you will now be logged in to SimVenture Validate.
When SimVenture Validate first opens, you will notice that there are helpful pop-up screens that explain how each area within the platform works. We recommend reading these prompts so you understand how each of the four sections of SimVenture Validate work.
To navigate through the four sections of SimVenture Validate, click the icons that appear on the left hand side of your screen if using a PC or at the bottom of your screen if using a mobile device. The icons that correspond with the four sections are shown below.
---
Now you should be off to a flying start with SimVenture Validate, and we cannot wait to hear about the amazing ideas you create, startups you start, and businesses you grow.
If you've developed a business idea or project using SimVenture Validate that you would like to share, we would love to hear from you.
Still setting up? You may enjoy this next blog post >> How to set up a team in SimVenture Validate
---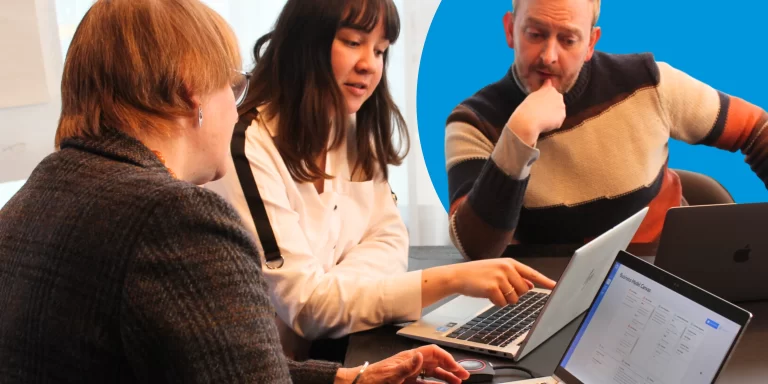 Discover the highly sought-after Validate features that will be hitting your screens in September 2023.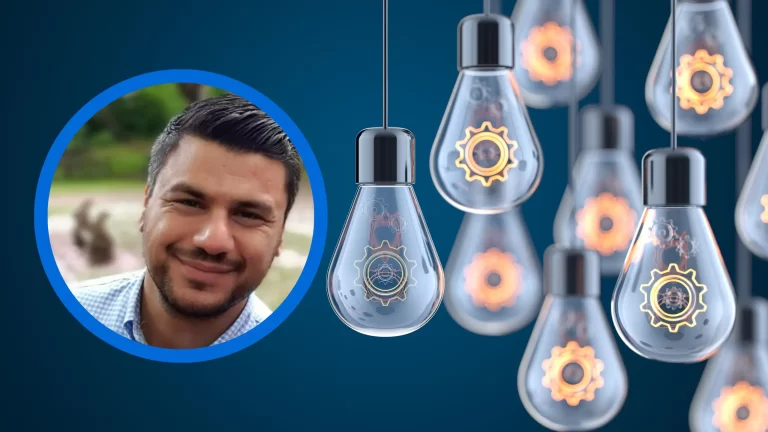 Starting a business is never an easy feat and in Mohammed's case it is a…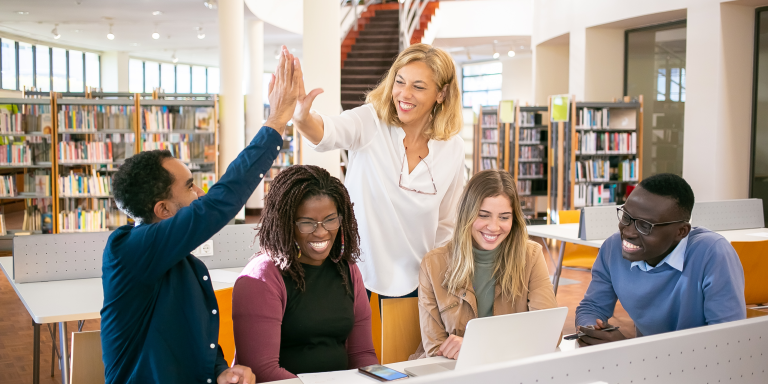 Do student competitions motivate learners? There are advantages and disadvantages but what effect do these competitions have on students?