Sustainability: Key to Business Simulation Update
The latest version of SimVenture Evolution is now live with exciting new enhancements including the addition of sustainability features.
Due to popular demand, some powerful additions have been added to our online business strategy game including a new sustainability feature.
In this article you will find an overview of all the new enhancements to the advanced business simulation, SimVenture Evolution. Discover each change and what this will mean for you. You'll also get a glimpse into the exciting developments that are coming up next.
---
New sustainability features reflecting real-world sentiment
We've added new features on sustainability in SimVenture Evolution to reflect the ever-growing importance of sustainability in business. Learners can now select a range of options to improve their sustainability rating. Based on their decisions, this will potentially impact how their simulated company is perceived by their customers.
The sustainability options that have been added include:
• Environment
• Ethics
• Premises
• Supplier
• Product Design
The range of options demonstrates to learners the multi-faceted importance of sustainability in real-world business strategy.
This addition also complements the ideation and business planning platform, SimVenture Validate. In this start-up ideas platform sustainability is also a focus within the business model canvas.
These additions mark the beginning of a journey to reflect the importance of sustainability in the business simulation. Watch out for further developments in the near future.
---
New history items including sustainability added allowing learners to make more informed decisions about their sim company
New information has now been added to the simulation allowing learners to make more informed decisions about their sim company. This information is new data that can be found within the history section of SimVenture Evolution.
This additional information will help learners analyse the outcomes achieved at the end of each business quarter. They will also help learners to identify potential business challenges that need to be addressed at any stage. The added history items include:
• Space Usage
• Production Usage
• Sustainability
• Workers Used
• Returns v Sales
• Market Share
These items and more are also incorporated in the new History Overview screen.
---
All new history overview screen gives users a visual representation of the performance of their business
A new history overview screen has been added to SimVenture Evolution. This new screen gives learners the ability to visualise the performance of their simulated venture at the end of each quarter.
The page brings together key data in a user-friendly format with colour codes to highlight areas of concern and success. This allows learners to quickly identify trends to help them make well informed business decisions based on the data.
---
Educators can now monitor the total time learners spend on the business simulation
Educators using SimVenture Evolution can now view a table in the administrator panel that shows student engagement levels.
Using the administrative tool educators can monitor how and when learners are using the business simulation. Educators can also identify students who are highly engaged with simulator activities that have been assigned to them.
---
Improved translation editor
If like us you love your tech, you'll be interested in some behind-the-scenes developments. We are delighted to announce that our technical team has created a smoother process to allow SimVenture Evolution to be translated. This technical update also allows the simulation to be translated into the right-left orientated languages. Look out for the Arabic version which is being published before Christmas!
---
SimVenture Evolution Interactive is coming soon!
Lastly, we are also excited to announce that extensive development for SimVenture Evolution is underway. The goal is to create an even more immersive and guided approach to learning with the business simulation.
Simpler, more focused activities are being developed which will guide learners through 'Business Basics'. Activities allow people to learn commercial concepts in a step-by-step manner. A system is also being finalised that will test knowledge at key stages of simulation activity. This will allow learners to demonstrate their understanding through summative assessment questions.
SimVenture Evolution Interactive is designed to promote active, independent learning, saving you time along the way.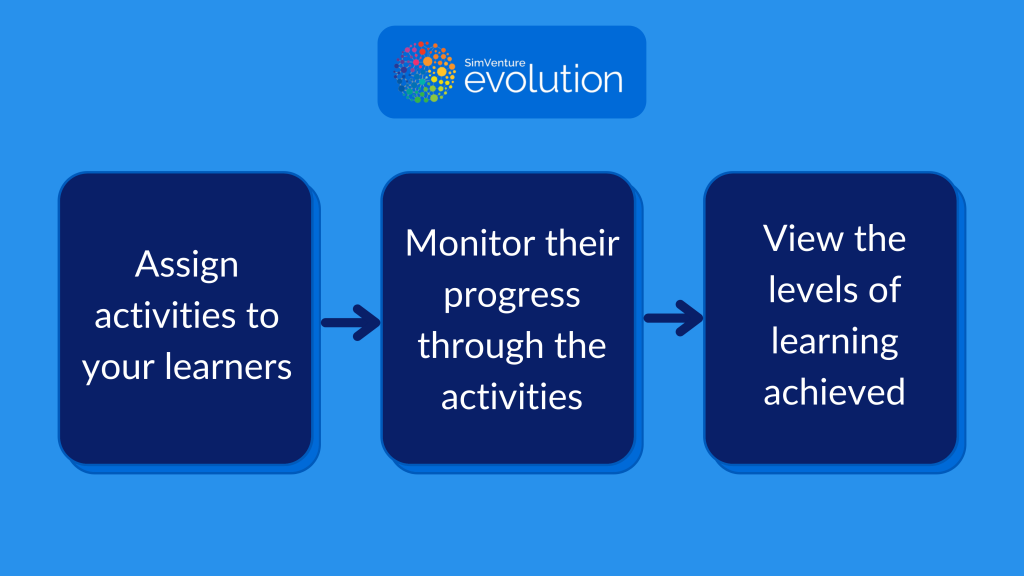 These activities will be created in the very near future and we look forward to keeping you updated with these developments.
---
We really hope you enjoy the new release of our innovative online business simulator.
If you have any questions at all for our team about the recent developments or would like to arrange a demo of SimVenture Evolution, please don't hesitate to get in touch.
---
Liked this blog post? You may enjoy these articles too.