Teaching Skills: SimVenture Evolution made easy
If you want to develop your SimVenture Evolution teaching skills, this post is ideal for you.
Whether you are a business simulation novice or have already spent some time working with SimVenture Evolution, you will find the information and support you need.
You can watch the Let's Play videos referenced below to develop your teaching skills. And good news, all videos are free to view.
---
Teaching skills and Let's Play SimVenture Evolution videos
In September 2021, the SimVenture team ran a series of live 'Let's Play SimVenture Evolution' webinars. People from all over the world who were keen to develop their business simulation teaching skills attended. A high proportion of all attendees went on to rate the events very highly.
Once all webinars were complete, event film footage was edited so that people like yourself could view the videos in their own time.
To make the most of any learning, we recommend setting up your own SimVenture Evolution license before watching any of the resource videos.
---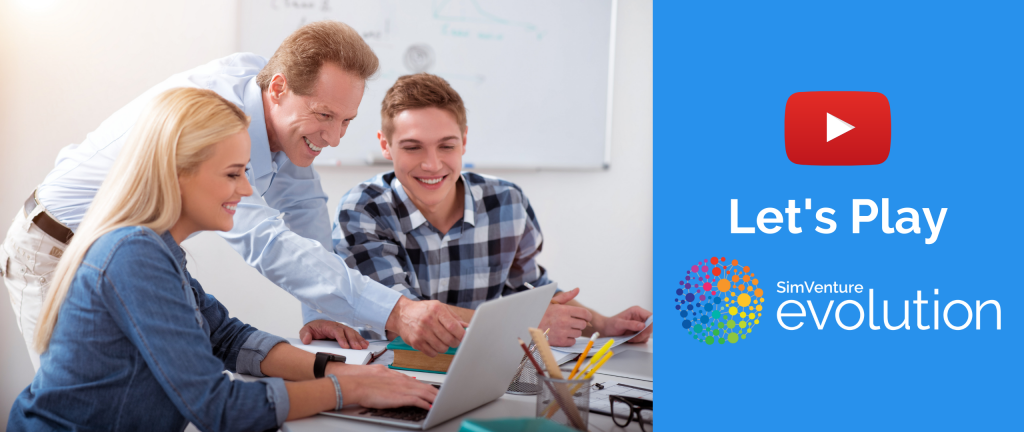 What the Let's Play videos cover
In total, there are six films that focus on developing SimVenture Evolution teaching skills. The videos cover the following topics with the duration of each video in minutes provided in brackets:
To support your work and to help advance your teaching skills when using SimVenture Evolution, you can also access written learning and support resources from the main SimVenture website. Again, all materials are provided free of charge.
---
Accessing the Let's Play videos
If you have already been provided with a link to our Let's Play Teaching Skills videos you can access the film resources immediately. However, if you still need the link, simply complete the short form below and all details will be provided to you.
Please note, to share the free video resources you will need to provide a professional email address that links clearly to your education institution or workplace organisation. We are unable to provide details to students; nor can we respond to generic email addresses.
We very much hope that you benefit from using the videos and are able to advance your teaching skills with SimVenture Evolution. We look forward to any feedback you can offer. Please don't hesitate to get in touch with our team today.
---
If you enjoyed this article, you may enjoy learning more about our most recent updates to SimVenture Evolution.