SimVenture Validate in the Curriculum: UAL Case Study
Discover how the University of Arts London's London College of Fashion has used SimVenture Validate in the curriculum to support educators and students.
For the past two years, VSL has been proud to supply UAL's London College of Fashion with our innovative learning solutions. As such, we are delighted to share how our interactive business model canvas platform, SimVenture Validate, has been used within the curriculum in UAL's Fashion Business School.
With support from Richard Mkoloma, Lecturer in Fashion & Design Management at UAL's London College of Fashion, and talented BSc Fashion Management student, Angel Vianne Abellanosa, find out how SimVenture Validate supports educators to teach and students to learn key business concepts in a user-friendly way.
---
What is SimVenture Validate?
SimVenture Validate is a self-guided online business education platform allowing users to ideate, map, test, and share their business ideas. For educators, the platform allows easy access to monitor student progress and provide support when required. For students, SimVenture Validate communicates key business concepts and allows them to:
---
Using SimVenture Validate to its full potential: A student example
Angel Vianne Abellanosa is one of many students across the UK who has had the opportunity to use SimVenture Validate during her studies.
Angel was first introduced to the platform whilst undertaking the course unit, Enterprise Management Project, in the second year of her BSc Fashion Management degree at UAL's London College of Fashion. This course unit bridges the gap between theory and operational fashion business management principles that students learn in their first year of the degree and is led by Fashion Design consultant and Lecturer in Fashion & Design Management, Richard Mkoloma.
Angel's work throughout the module was clearly of a very high standard and the work she completed within SimVenture Validate reflects her dedication. The sharable SimVenture Validate portfolio created by Angel is a sound example of what can be created within the platform, and we are delighted to highlight both Angel's work as a student and the invaluable support provided by Richard to his students.
Please note that this portfolio is theoretical and all items contained within are for assignment purposes only. Therefore, items such as 'Partners' stated within Angel's SimVenture Validate portfolio are theoretical and are not real business relationships.
After using SimVenture Validate, Angel said, "I've tried working with the Business Model Canvas before when it comes to making a Business Plan, however it was not as simple as using SimVenture Validate. SimVenture Validate helped me a lot because of the easy flow and guidance it gave whilst I would start filling out information about customers, the value proposition, and many other key parts of the business model. The examples provided on each part of the BMC within SimVenture Validate also made it less intimidating to use."
---
Where is SimVenture Validate used in the curriculum?
In this particular user case, SimVenture Validate was used within the Enterprise Management Project (EMP) unit at UAL's Fashion Business School, which is a second-year module as part of the BSc Fashion Management course.
As described by the University of Arts London, this course "challenges students by equipping them with a solid grounding in fashion management theory and practical approaches to a wide range of areas in the fashion industry. It encourages students to become leaders and innovators in the business fashion industry."
In particular, the EMP unit focuses on allowing students to acquire operational, entrepreneurship, business and creative skills to create and develop their own real-life brand proposition and turn their concept into competitive products within the e-commerce arena.
As Richard Mkoloma explains, "Students actually engage with and sell to the public, and then reflect on those results. Due to the pandemic restrictions however, the students' projects (when Angel studied) were limited to a theoretical proposition.
"To achieve this, students work collaboratively in a team, assuming the functional roles frequently found in small fashion businesses. During this process they acquire the techniques and skills of project management, teamwork, presentation and research to support the successful development of a small social enterprise startup.
"In response to contemporary needs and challenges, students are also tasked with embedding the principles of sustainable practice within their business concept. This is a very exciting, dynamic, and interactive unit where students get to put into practice their own ideas, as well as the academic and theoretical business models and frameworks they have learned."
---
How is SimVenture Validate used in the curriculum?
Richard Mkoloma has been using SimVenture Validate in the curriculum for the past two years as a complimentary business modeling and idea generation tool alongside the delivery of lectures, seminars, and tutorial sessions within the EMP module at UAL's Fashion Business School.
Richard explains, "Retrospectively, this past year, students on the EMP module would be placed into 'Business Support Groups' of approximately 5 – 6 members. In the first phase they used the Idea Generation tool within SimVenture Validate to generate consensus around ideas and values.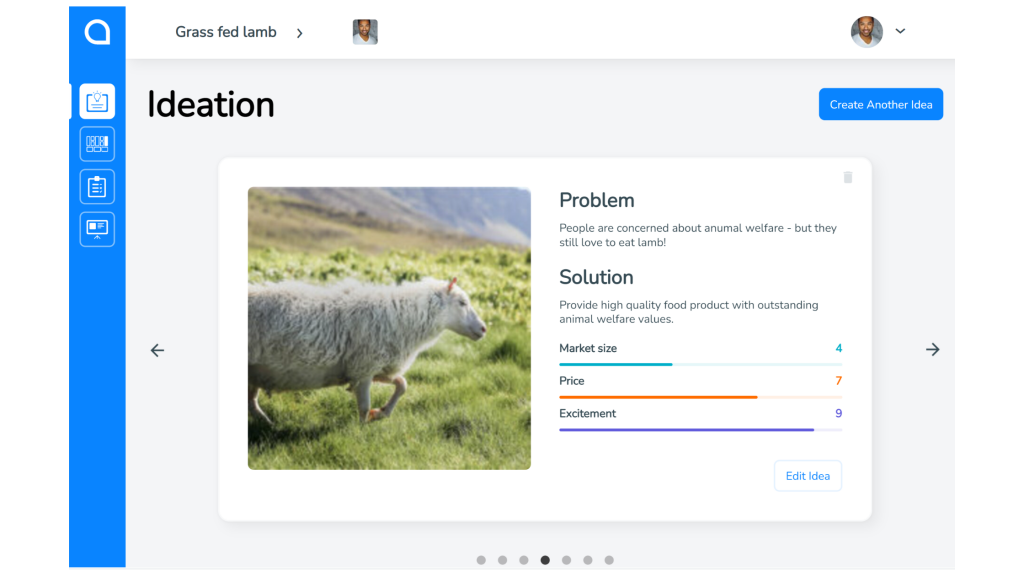 "This process enabled students to both connect as a group on some fundamental level. However, at this stage very generalised concepts are developed around the business idea that they would go on to develop as a unit.
"As the students further developed their projects they were required to build their business idea in SimVenture Validate's interactive Business Model Canvas.
"The prompts within the Business Model Canvas, along with the academic delivery aided the students in their research, rationalisation and eventual realisation of their entrepreneurial proposals. They worked collectively and would focus on the various BMC 'blocks' depending on their individual role responsibility and needs of the business.
"While their final assessment was delivered in a more traditional business report format, the SimVenture Validate Portfolio was included alongside this report as a reference. It was also helpful as it could be accessed and shared during tutorial sessions with their assigned tutors aiding in the development of their projects."
---
How does SimVenture Validate support educators?
SimVenture Validate supports educators in a number of ways. From Richard's perspective, the online business planning platform has been particularly helpful throughout the pandemic as it aided student engagement and helped students understand the interconnectedness of business model generation.
Richard said, "Although we started working with SimVenture Validate prior to the Covid-19 pandemic, it really became a valuable tool to stay connected.
"SimVenture Validate was especially important as the Coronavirus restrictions meant that student groups whose members may have unexpectedly found themselves working separately and sometimes based in different countries and time zones could still contribute to and visualise the development of their group projects online and in real time. Our students, being digital natives, also took to the technology quite easily and were able to access and develop their project in their own time and at a pace that worked for them.
Overall, Richard explained that using SimVenture Validate "helped add dynamism to our lessons and the back-end management on the educator portal gives us an opportunity to access student projects to gauge progress and engagement. This is particularly helpful during tutorial sessions where ideas can be visualised and challenges addressed.
"SimVenture Validate with its case studies, links and prompts, supports the educational journey as it helps students to bridge the gap between theory and real-world application."
Lastly, we asked Richard whether he would recommend SimVenture Validate to other educators, and this is what he said:
"I would recommend SimVenture Validate for all the reasons above! It is a great technology that expands upon the traditional Business Model Canvas in a really logical way. It can aid real-time engagement, both in and out of the classroom or lecture theatre. It's prompts, case studies and links provide students with a range of easy-to-follow guidance which helps develop their ideas. It enables educators to monitor student progress and engagement and offers clear feedback based on observable information. It allows everyone with access the ability to connect."
---
How does SimVenture Validate support students?
Angel's Loop&Loop portfolio which she created on SimVenture Validate is a good example of what students' are able to produce by using the platform.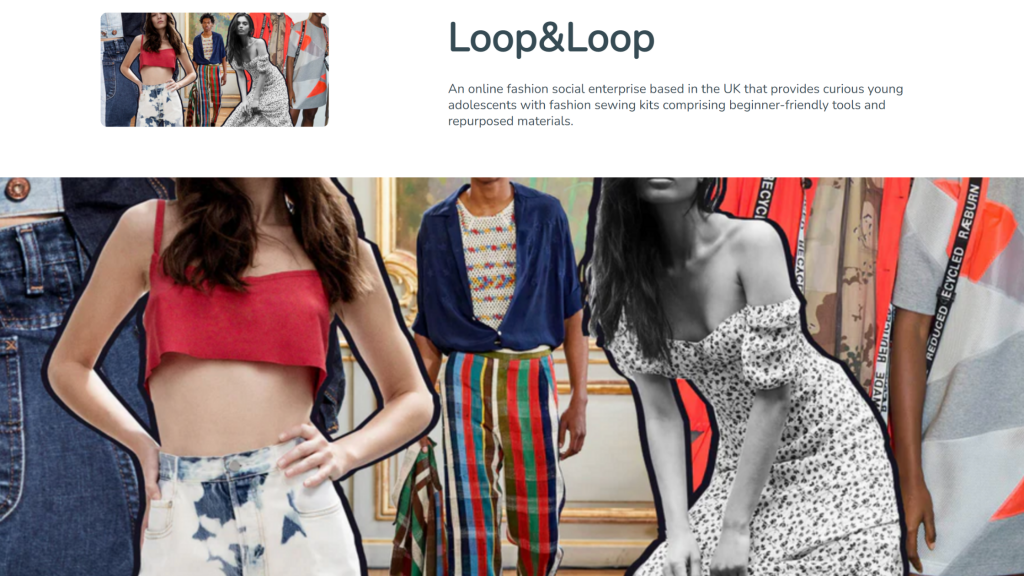 Richard Mkoloma said, "As Angel's Unit (module) Leader and Business Support Group tutor, I think that Angel did an exceptional job in bringing together academic learning, creativity, and business development using SimVenture Validate and is really a testament to her consistency, work ethic, intelligence and eye for business!
"From my perspective, I think the platform gave Angel a real time 'living and breathing' repository for the steady development of her research and ideas. She was able to experiment with concepts, modes of research and also step back and gain perspective and make necessary adjustments.
"It also allowed us to interact easily and for Angel to coherently build and communicate her business idea (verbally and visually) especially as the physical distance between us was a factor."
When we asked Angel about her experience of using SimVenture Validate, she said:
"SimVenture Validate made it simpler and less intimidating to create a Business Model Canvas, especially with its user-friendly interface. It is something I would use when I think of creating a business in the future because it gives you a platform to drop your ideas from ideation up to portfolio and presentation."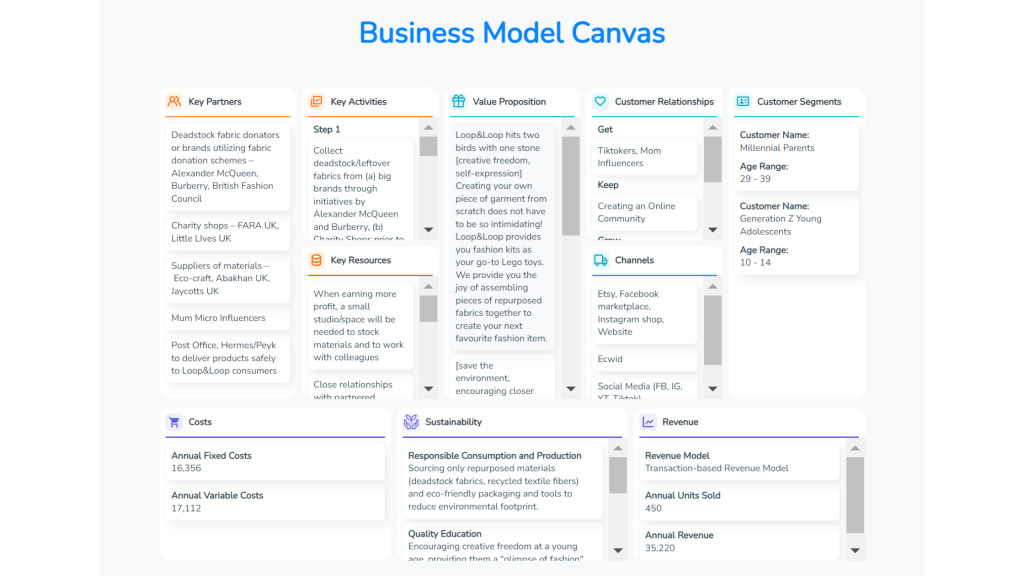 Lastly, we asked Angel whether she would recommend SimVenture Validate to other aspiring entrepreneurs and she said:"I would recommend SimVenture Validate, especially to young aspiring entrepreneurs, because it is beginner-friendly and provides you with enough information and examples to look into whilst creating a new business plan."
---
Thank you Richard and Angel for sharing your experience of using SimVenture Validate in the curriculum at UAL's London College of Fashion. We really value your feedback and are thrilled to hear first-hand how our digital learning solutions are supporting both educators and students.
---
If you would like to learn more about SimVenture Validate or would like a free online demo of the platform with one of our experienced Learning Development Managers, we would love to hear from you.