Entrepreneurship project leads to startup success
Discover how a University of Kent student entrepreneurship project helped Khawar Naveed Bhatti find startup success.
Recently, our Director Paul Brough Jones co-facilitated a workshop for University of Kent MBA students undertaking an entrepreneurship project. In this workshop, students were introduced to SimVenture Evolution, our advanced online business simulation – a key component of their entrepreneurship projects.
It was in this university workshop that Paul met Khawar Naveed Bhatti (Naveed) who had an extremely interesting story to share.
In 2019, Naveed had been a student in this very same workshop navigating SimVenture Evolution for the first time. Now in 2022, Naveed was back at Kent Business School supporting current students to share his own experience.
Naveed is now also an entrepreneur and CEO of his own business, GenSpec. A company he founded with university friends straight after graduating from university.
So, how does a MBA student go from recent graduate to entrepreneur straight after university? Let alone manage to start a business during a global pandemic?
Did the entrepreneurship project and our online business simulation have a role to play in Naveed's startup success?
Find out the answers in the following case study about Khawar Naveed Bhatti's entrepreneurship project and startup journey.
---
Introducing Khawar Naveed Bhatti and GenSpec
First, let us introduce you to Khawar Naveed Bhatti and the startup he co-founded, GenSpec.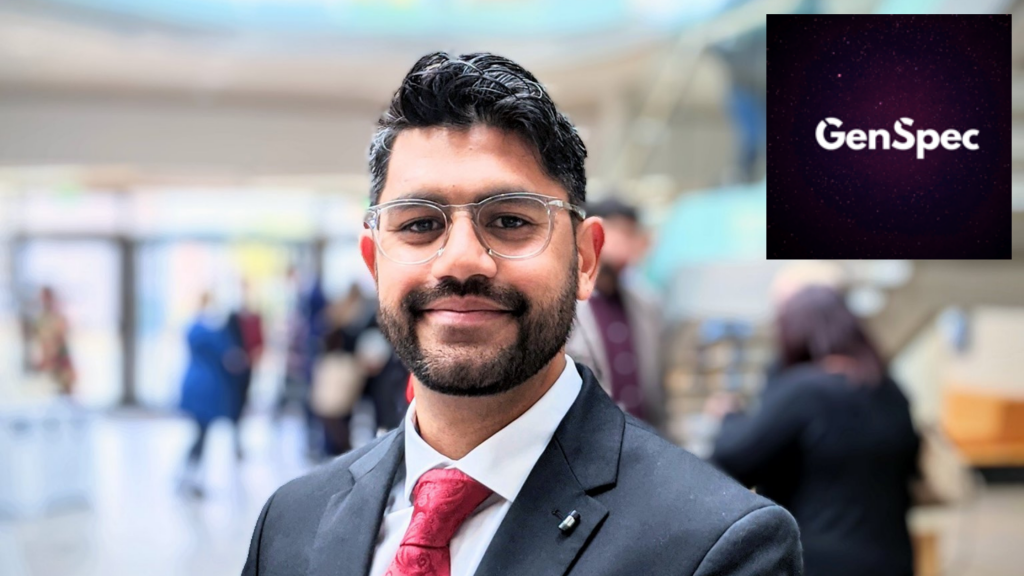 After graduating with a MBA from Kent Business School, Naveed put his new business skills and knowledge to immediate use. As such, he co-founded the company GenSpec.
Naveed, CEO of GenSpec, oversees the business planning and relationship building aspect of the business, alongside bringing GenSpec's vision to market.

Naveed's passion for any workplace is to maximize efficiency, solve problems, reduce costs, and drive growth.
As Naveed explained, "I have vast experience in Investment and Banking where I developed myself as a team leader. I worked hard to smooth out processes and build strong relationships intra-group to create synergy.
"Having seen first-hand the competitive advantages utilised by larger corporations, even creating some myself, I co-founded GenSpec. GenSpec has the vision to bring these techniques, technologies, and experiences used by larger corporations to SMEs.
"GenSpec is endorsed by ASPIRE, Kent Business School, EIRA, Santander & HICO Group among others. As such, we are well established in the local business community and are in a strong position to fulfil our vision."
---
The MBA Entrepreneurship Project at Kent Business School
Back in February 2019, Naveed was a Kent Business School MBA student starting an Entrepreneurship module led by Professor George Saridakis. In this module, students worked together in groups to complete an entrepreneurial project using our online business simulation game, SimVenture Evolution.
Students first explored the business simulation to understand how all the various business areas and departments within SimVenture Evolution interlinked.
Students were then required to develop an overall business strategy in their groups. From this stage on, all decisions and changes made within the business simulation needed to align with their business strategy. This allowed students to reflect on and assess the impact of their decisions.
As Naveed explained, "There were no set figures we were required to reach by using the business simulation itself. The grades were purely based on a final report outlining what we as a group had learned throughout the experience."
While students were not required to compete, a SimVenture Evolution leaderboard was available to encourage friendly competition between teams.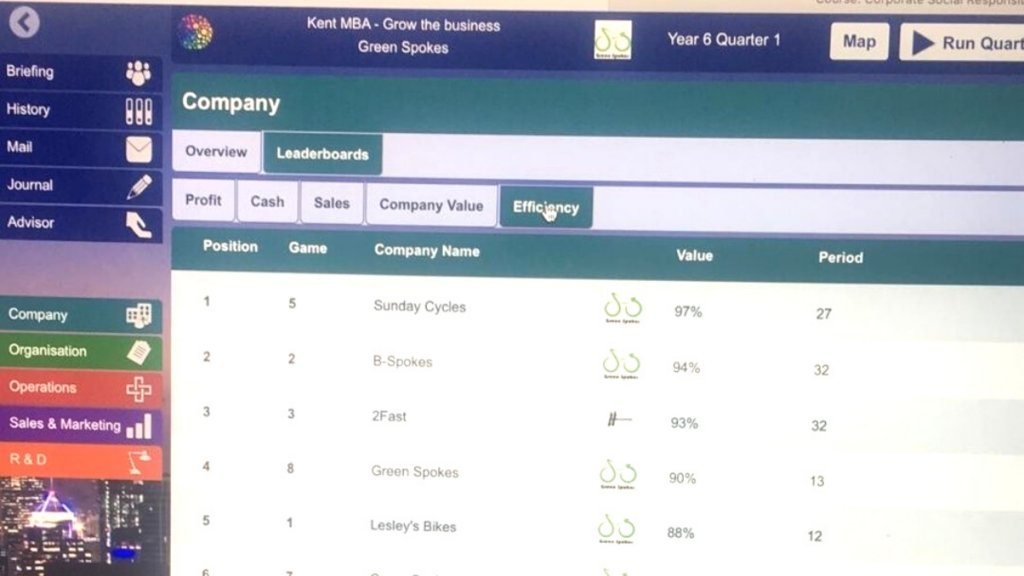 One of Naveed's highlights of using SimVenture Evolution during his time at university was his team's result on the leaderboard.
As Naveed explained, "Our team developed a strategy of market domination.
"By the end of the entrepreneurship project, we ended up taking the market valuation of our company to over £10.5 million!"
Naveed's team name was 2Fast and their result can be seen in the image below.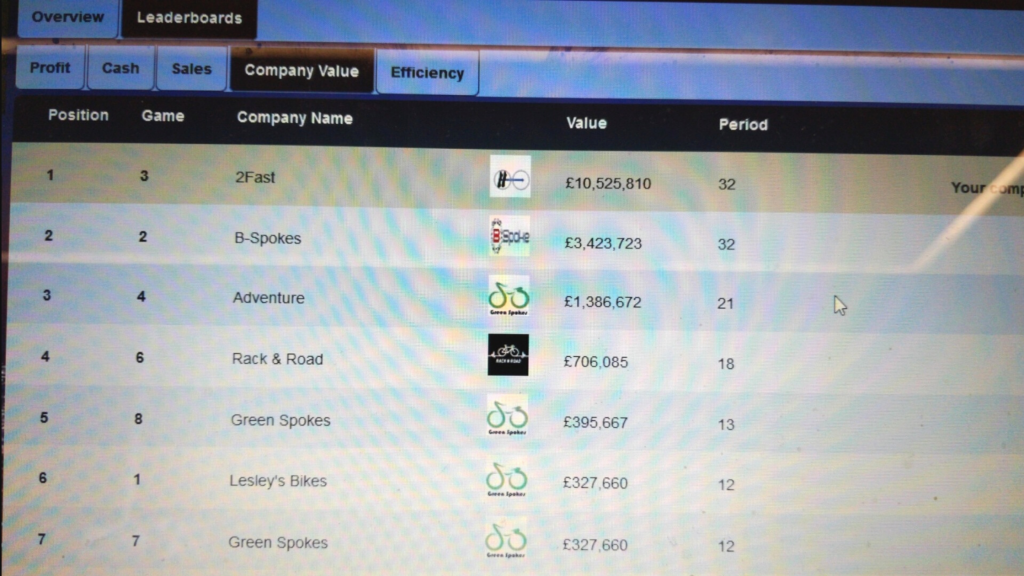 ---
Impressions of using SimVenture Evolution for an entrepreneurship project
Naveed's first impressions of using SimVenture Evolution for his entrepreneurship project was that "it seemed like a fun game".
As Naveed explained, "We had just completed a Business Analytics module where we were introduced to business simulations. In particular we were taught how business simulations are used to help real world corporate decision-making.
"As such, I figured there must be an algorithm at the back-end of the business simulation. I thought it had either some kind of Monte Carlo simulation or a random number generator running behind it.
"However, once I had completed two months of running the business in SimVenture Evolution, my views changed significantly.
"SimVenture Evolution is a lot more complicated than I first thought. There are a lot of moving parts to the business simulation and it's clearly not just a simple algorithm."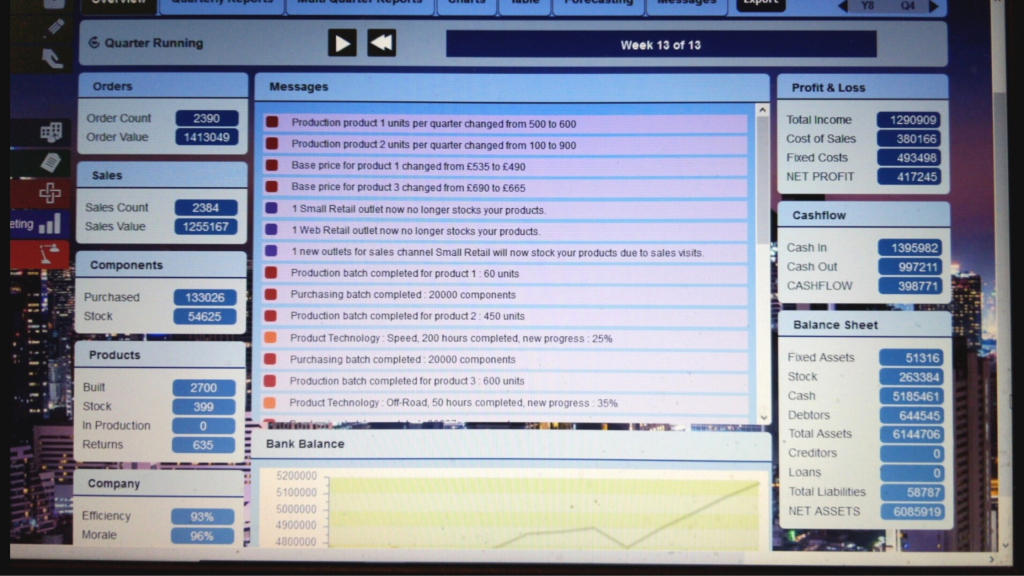 ---
What can you learn from using a business simulation
Using a business simulation as part of an entrepreneurship project allows people to learn key business and management skills.
Naveed's experience of using our advanced business simulation taught him many crucial enterprise skills, some of which may surprise you.
Naveed said that by using SimVenture Evolution he learned that, "business is about people. Your customers are people, your employees are people, and your competition is made up of people.
"As long as you understand how to manage your employees, you can develop a strategy to increase their efficiency and motivation. This in turn will allow your company's productivity to be maintained at high levels.
"As long as you understand your competition, you can develop a strategy that can take away market share.
"Lastly, when you understand your customers, you can make micro-adjustments that lead to better sales numbers and overall company performance."
---
How the entrepreneurship project impacted Naveed's decision to start a business
Naveed had always wanted to start a business. However, since he did not come from a business background he thought it would happen a lot later than it did.
Naveed said, "Admittedly, I was hesitant because I did not understand all the moving parts of a business.
"All of my internships and work experiences exposed me to particular departments within a business. However, I never really got to experience a business in its entirety."
After Naveed completed the MBA entrepreneurship module at Kent Business School, something changed.
Naveed explains that "using SimVenture Evolution was like a light bulb moment.
"In a simulated way, I was able to see the interconnectedness of all departments within a business all at once.
"On a general level, SimVenture Evolution gave me the understanding of the importance of gears and levers within a business. I also saw KPIs in action.
"The entrepreneurship project and the report were centred around creating a business strategy and decision-making in light of that strategy.
"All in all, the entrepreneurship project gave me the confidence to start my own venture a lot sooner than I anticipated."
---
The Startup Journey
Naveed's startup journey began after graduating from the University of Kent in 2019. Upon graduation, Naveed co-founded GenSpec Ltd with two friends he had met at university and was appointed CEO.
Naveed says, "We started GenSpec with the vision to support high streets to increase their per visitor spend. Ultimately resulting in more foot traffic off the street and into the shops.
"We wanted to create a platform that would allow students, residents and visitors to get to know and enjoy their city. We also wanted to support local businesses.
"Arguably, December 2019 was not the greatest time to start a business of this nature. However, we weren't to know that until a few months into 2020. Rather understandably, our startup journey has not been the smoothest.
"We had to pivot, adjust and respond to the changes in the market.
"As such, we created new products which have helped us become cash positive. However, these products still do align with our overall mission of bringing digital marketing to local businesses."
As a result, GenSpec now offers a range of digital marketing services including:
Website design and build services
Data and automation services
Search Engine Optimisation
You can find out more about GenSpec and their work here.
---
Startup Challenges: How an online business simulation helped
There are many startup challenges entrepreneurs are faced with when it comes to setting up a business. Let alone the challenges of starting a business during a global pandemic.
As Naveed explains, "The Covid-19 pandemic has been our biggest challenge – our entire market disappeared along with our funding.
"We have had to bootstrap, cut costs and intermediaries. Ultimately, I believe that these challenges have only made the company better and us a more skilled management team."
Looking back, Naveed acknowledged that what he learned throughout the entrepreneurship project did help him navigate these real-life startup challenges.
Naveed said, "In a simulated way, what we learned in the SimVenture Evolution assignment is that nothing is a sure thing.
"We learned to listen to customer feedback, assess the market situation, and make decisions on how to respond to market anomalies.
"In the business simulation we created new products to enter new markets and diversity.
"In reality, that is what we did at GenSpec.
"We listened to the market. Everything was shifting online already, but the lockdowns forced even the most stubborn businesses to consider having an online presence. And the businesses that were already online wanted to enhance their positions.
"As a result, we created a consultancy arm to our business to provide digital marketing services. We learned how to create websites in the summer of 2020 and that is now a signature product that GenSpec offers."
---
The future of GenSpec
Looking to the future of GenSpec, Naveed says that their "aim is twofold".
"We want to establish GenSpec's consultancy arm as one of the go-to digital marketing solutions for local businesses. We also want to help local businesses have and make use of the same techniques and technologies that large corporations utilise.
"Secondly, GenSpec will soon be launching an app called InCanterbury.
"InCanterbury is an app to encourage students, tourists and residents to support local businesses. You can keep up-to-date with this project here.
"Once proven successful, we will take this app to more cities and create digital environments that support local spend."
---
Entrepreneurship project support and business simulation tips for students
Naveed has now supported two MBA cohorts at Kent Business School with their entrepreneurship projects. As such, he has some great tips to share with students who are using the business simulation for the first time.
Naveed said, "Professor George Saridakis recognised that I understood the key learning points during my entrepreneurship project back in 2019. He also recognised that I delivered on these points."
As a result, Naveed has been sharing his experience and supporting new cohorts to understand the objectives of their entrepreneurship projects.
Students using a business simulation, take note! Here are Naveed's top tips for students using SimVenture Evolution based on his own experience.
Naveed said, "before you start fiddling with the business simulation, aimlessly pressing buttons, understand the purpose and objectives of your assignment.
"It is tempting to judge the progress and compare by numbers. However, the best learning you can take away from this experience is that you define success in your own terms. You need to define your goals.
"These goals could of course be to get a certain company valuation within a specific timeframe. However, goals could also be having a set amount of assets, being cash positive, or having customer satisfaction for example.
"The purpose of SimVenture Evolution, for me, was to create these goals and make decisions that fit with these goals. Then of course assess whether they were good or bad decisions, and learn from them for the next quarter."
---
Using a business simulation to develop business skills
Lastly, we asked Naveed if he would recommend SimVenture Evolution to people who would like to develop their business skills.
Naveed said, "Yes, absolutely – the lessons you learn from using SimVenture Evolution are valuable and relevant for dealing with real-life business situations.
"Other than the obvious business skills and knowledge, you can also develop your soft skills by using business simulations. For example, if you work in a team, you can develop your intra-company communication skills, leadership skills, and negotiation skills.
"There might be different people in charge of different departments; Sales, Research & Development, Operations, Marketing, Finance, Human Resources etc. Each person will see a situation in a different light and each will view a decision in a different light. This is very much like a real-world business situation.
"It is important to learn how to create best case scenarios. It is also vital to get other departments to agree on changes, make compromises, or share resources. All of these are very important business skills."
---
Thank you to Naveed for sharing your startup journey and business simulation experience with us. We look forward to seeing what the future holds for GenSpec and InCanterbury the app!
Of course, we hope this blog post has provided you with some inspiration. We also hope it gives you an idea of how a business simulation can have real-world impact on learners. Naveed's experience is one great example.
If you would like to find out more about SimVenture Evolution, request your free online demo from our team today. We look forward to working with you.
---
Enjoyed this post? You may like these too.
There is no excerpt because this is a protected post.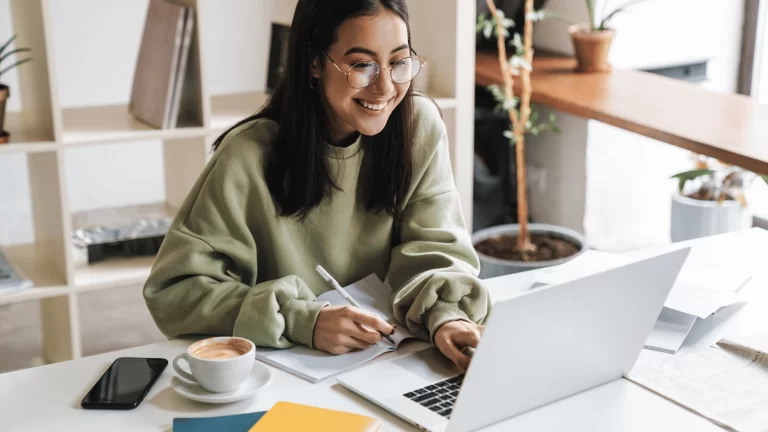 This step-by-step guide will help you login to the online business simulation, SimVenture Evolution, for the first time.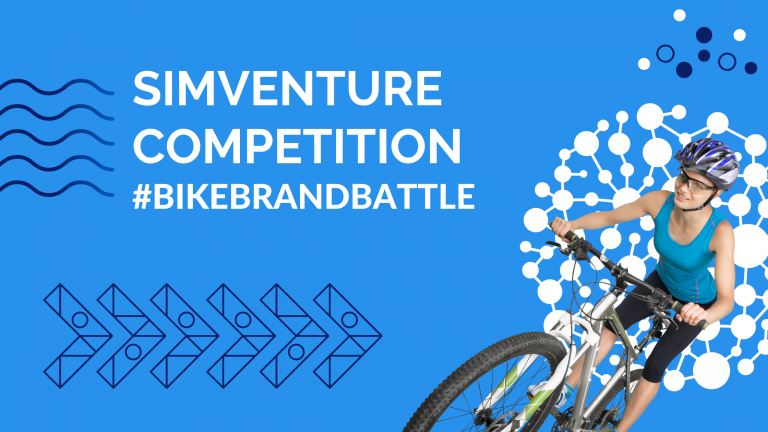 £50 up for grabs for one talented business simulation user!This October 2022, we're running #BikeBrandBattle – a social media competition…