Validate business ideas with confidence
Budding entrepreneurs who would like to start a successful business should aim to confidently validate their business ideas before launching.
Why is it so important to validate business ideas?
Discover why startup validation is so important in Peter Harrington's Startup Love Story (a tragedy in 3 parts). By reading this article, you'll also find out what happens to so many people when they try to start a business.
Often the reason startups fail is due to passionate entrepreneurs moving in the wrong direction too quickly. Understandably, entrepreneurs often get excited about their startup ideas. But instead of conducting strategic research and seeking validation, entrepreneurs often build and launch their product or service too early.
This results in entrepreneurs spending valuable resources including time and money on starting a business that has little chance of success.
Worse follows…
When sales fail to match expectations, additional money is often thrown at marketing like mud at the wall. Sadly, little sticks and within no time, the business ceases trading.
Successful entrepreneurs do things differently. They research their business ideas to determine whether their new product or service solves a real problem for potential customers. They also conduct valuable market research to determine whether a potential customer will actually pay money for the solution they are offering.
Successful entrepreneurs are also open to understanding market behaviour and pivot or tweak their business ideas according to feedback. This in turn gives them the best chances of success when launching their new product or service.
But how do you know what research to undertake and how can this be done quickly?
SimVenture Validate offers a solution and can help entrepreneurs turn their ideas into successful startups.
---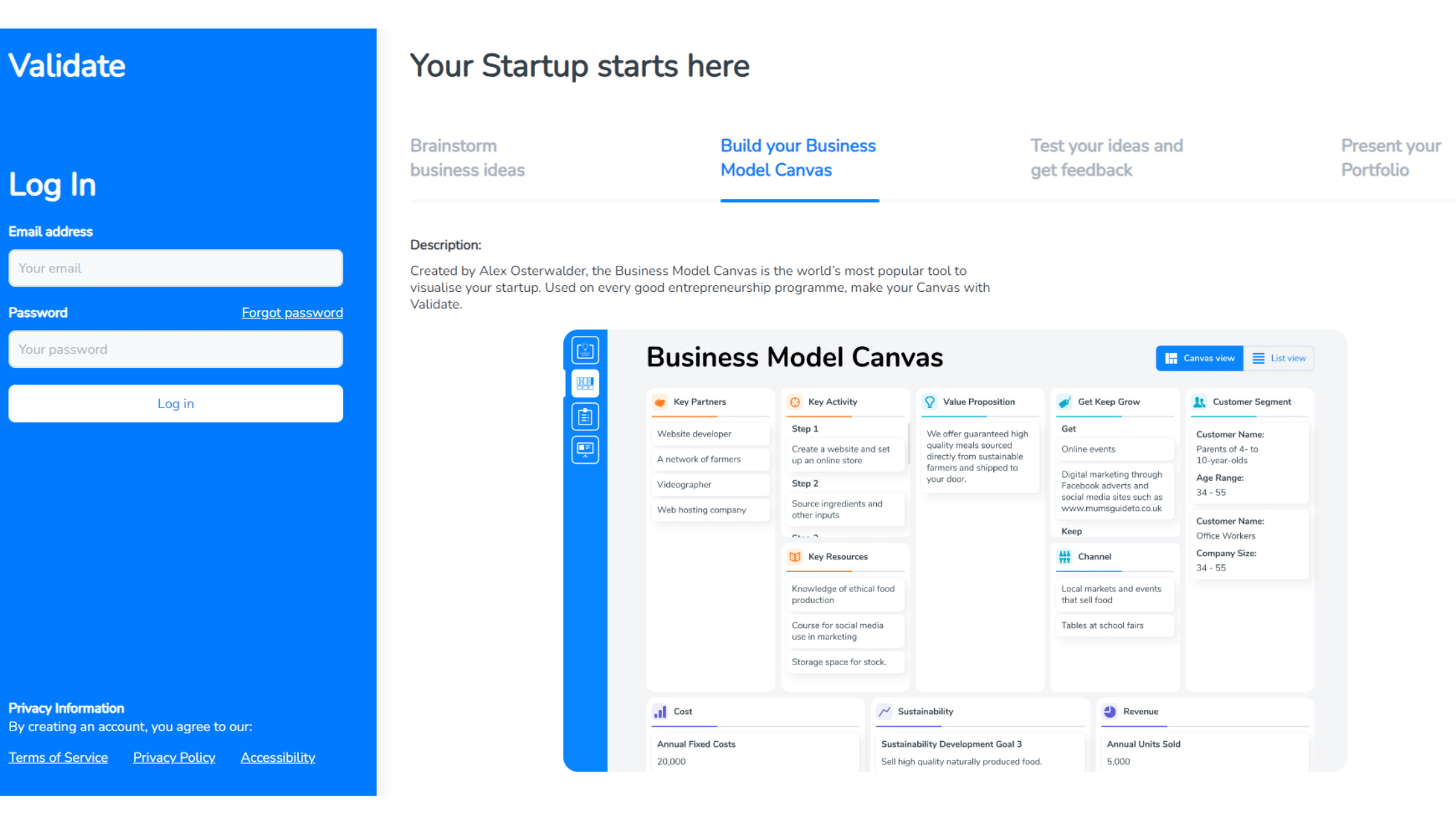 Use an online business idea validation tool
So how do you get the startup process right to give your business or project the very best chance of success?
On the face of it, thinking through the process of validating your startup idea can appear daunting. For example, when working through customer research you may be asking yourself questions around:
What information do you really need to find out
What specific questions should you ask to gain valuable insights
Who should you be speaking to and getting feedback from
How should research be collected, analysed and presented
These are just some of the questions you may be considering.
Unfortunately, many entrepreneurs skip these critical steps as they are too worried about generating an income stream quickly.
Fortunately, our innovative and easy-to-use online business validation platform can help.
SimVenture Validate guides you through the process of validating your business startup ideas quickly. It also automatically updates and presents your information in a business portfolio that is easy to share with all interested parties.
In summary, SimVenture Validate helps you:
The platform also allows you to create multiple projects. Meaning that you can create as many business ideas as you like along with business models, tests, and business portfolios. This of course will help give you the best chance of starting a successful and sustainable business.
---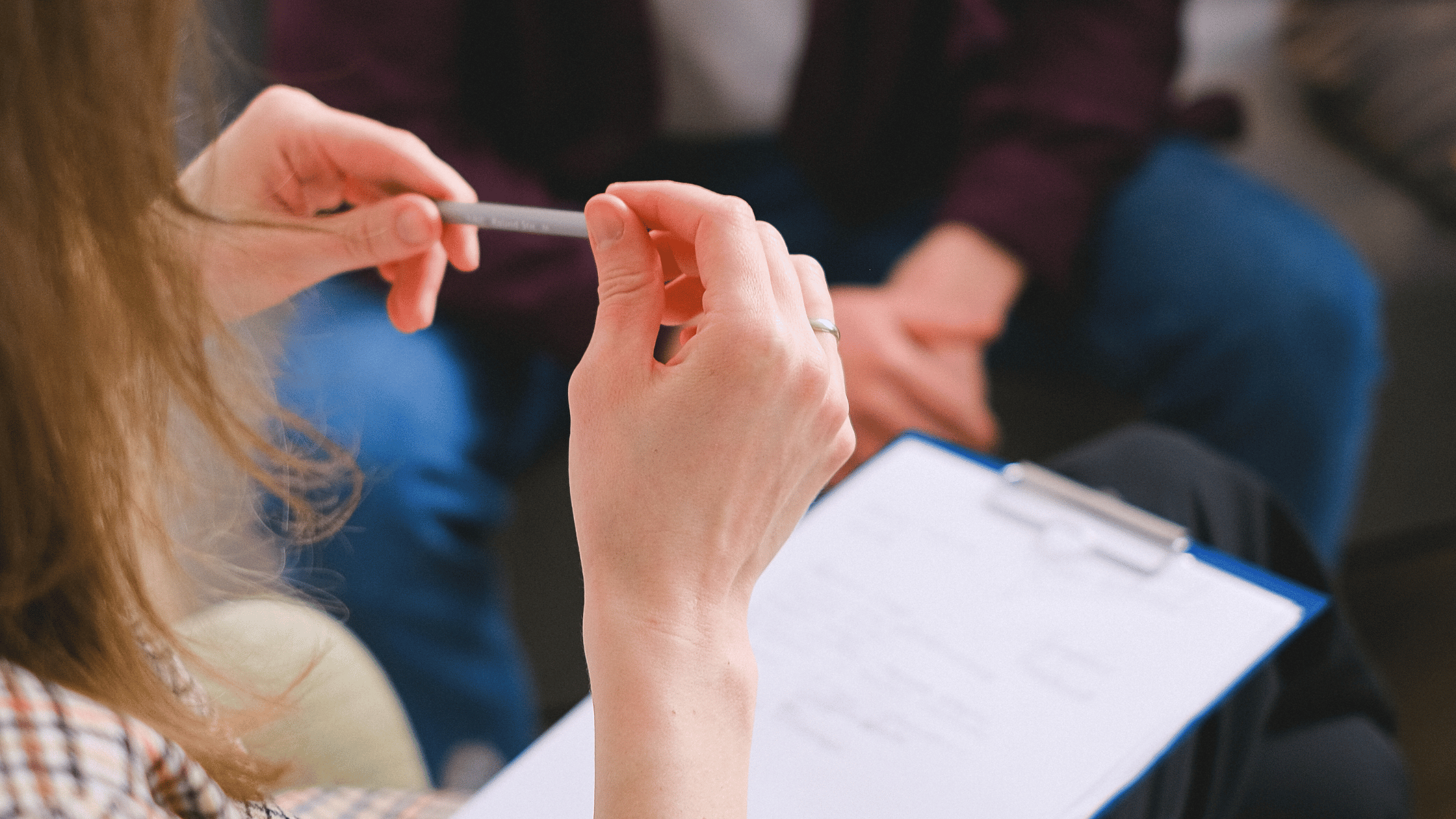 Testing your business idea with SimVenture Validate
SimVenture Validate allows you to test your business idea which is vital for anyone looking to start a successful business.
Often entrepreneurs make a number of assumptions about how their business model will work and how prospective customers will behave. Entrepreneurs who ignore these assumptions or simply make up favourable answers are typically setting themselves up for failure.
SimVenture Validate helps alleviate this pressure and uncertainty by walking entrepreneurs through a step-by-step process of:
Ideating their business ideas based on real-life problems and solutions
Thinking through the business model for their startup idea using an interactive Business Model Canvas
Testing the assumptions they've made within all areas of the Business Model Canvas
SimVenture Validate guides entrepreneurs to develop viable business ideas and helps structure their thinking to give them the best chance of success.
---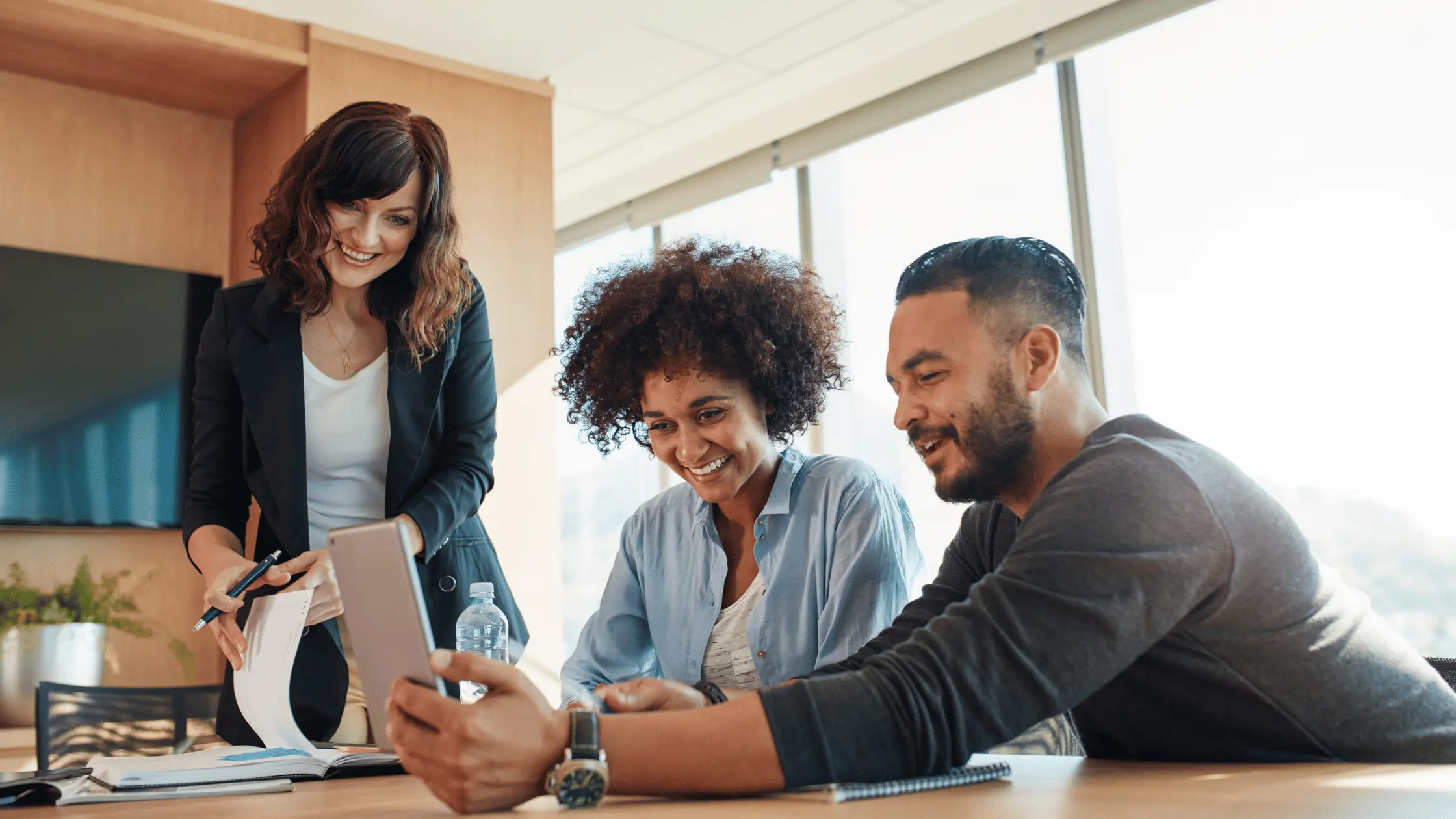 How SimVenture Validate can help you launch a viable startup
SimVenture Validate has been created to help aspiring entrepreneurs launch viable startups.
After ideating, the platform provides users with an interactive version of Alexander Osterwalder's Business Model Canvas. Entrepreneurs also don't need to have any prior knowledge of the Business Model Canvas before jumping in and creating one in SimVenture Validate. All information needed is provided within the platform and includes helpful prompts and guidance throughout.
For more experienced entrepreneurs, you may have notice that the business model canvas elements have been slightly tweaked within SimVenture Validate so that there are 10 blocks instead of 9.
The additional business model canvas block in SimVenture Validate asks entrepreneurs to consider how their ideas link to the United Nations' Sustainable Development Goals. This is another critical consideration for businesses in the current climate.
When developing a business model, entrepreneurs inevitably make assumptions about how their business will work and how potential customers will react. This is where key research and validation is necessary.
SimVenture Validate then guides users to identify the assumptions they have made so they can then test their assumptions and validate their thinking.
---
Test and validate your business idea
A key feature within SimVenture Validate is the 'testing' area of the platform, which enables entrepreneurs to test and validate their business ideas.
Within the 'testing' area, entrepreneurs are challenged to highlight the key assumptions they have made and question what they don't know. Going through this critical process allows people to discover how, where, why and what research is needed.
The platform then encourages users to test these assumptions, analyse the results, and record the outcomes. At this stage, entrepreneurs may identify that their startup idea or business model needs to be tweaked. Any identified changes can be made directly in SimVenture Validate and can be tested again until a validated business idea and model is found.
---
Key assumptions to consider when starting a business
SimVenture Validate also helps entrepreneurs identify the key assumptions that must be considered when starting a business. As explained, assumptions are often made when entrepreneurs plan their business structures. This means that assumptions can be made within any area of the business model including:
Value proposition
Key activities
Key partners
Key resources
Customer relationships
Channels
Customer segments
Cost structure
Revenue streams
Sustainability
Instead of wasting time considering minor assumptions, SimVenture Validate helps guide entrepreneurs to consider the critical assumptions of their startup idea. The critical assumptions are the ones that if not validated will ultimately lead to startup failure.
For example, if an entrepreneur thinks that their customers are a particular demographic of people, this is a critical assumption. If the business is launched and marketed towards this identified demographic of people but no sales are made, this suggests a problem. It may be an issue with the chosen target demographic or it could also highlight an issue with the original business idea.
If this identified target market was properly researched and tested prior to launching, the startup would have saved both money and time longer term. The entrepreneur would also have figured out a way to tweak the business idea or proposed target demographic to ensure a higher chance of success from the beginning.
Another example is if an entrepreneur assumes their new product or service will sell for a particular price. If the startup launches but the price of their product or service is set too high, this could result in minimal sales. Conversely if the price point is too low, lots of sales could be made but the startup may not make enough money to survive due to unforeseen costs.
By researching and testing the price points of the new product or service, the startup could avoid making mistakes that drastically impact their cash flow when they start trading.
Lastly, if entrepreneurs are planning to pitch to investors, investors will investigate any claims that are made within the business plan or pitch deck. Therefore, if critical assumptions have not been tested and thorough research has not be conducted, it is unlikely entrepreneurs will have solid answers for questions that are likely to be asked.
For example, it is very easy to write a sales forecast for a business without conducting any meaningful research. However, if an investor asks a question relating to these figures, they will be expecting an answer that is backed up by solid research and evidence. If an entrepreneur cannot provide this level of information, it is highly unlikely that investors will be interested in parting with their cash to back the business idea.
Overall, there are many critical assumptions that can make or break your startup. However, by identifying, researching, and testing these assumptions, you are much more likely to launch a successful startup. SimVenture Validate simply guides entrepreneurs through this process in a logical and meaningful way.
---
Use SimVenture Validate to develop your viable startup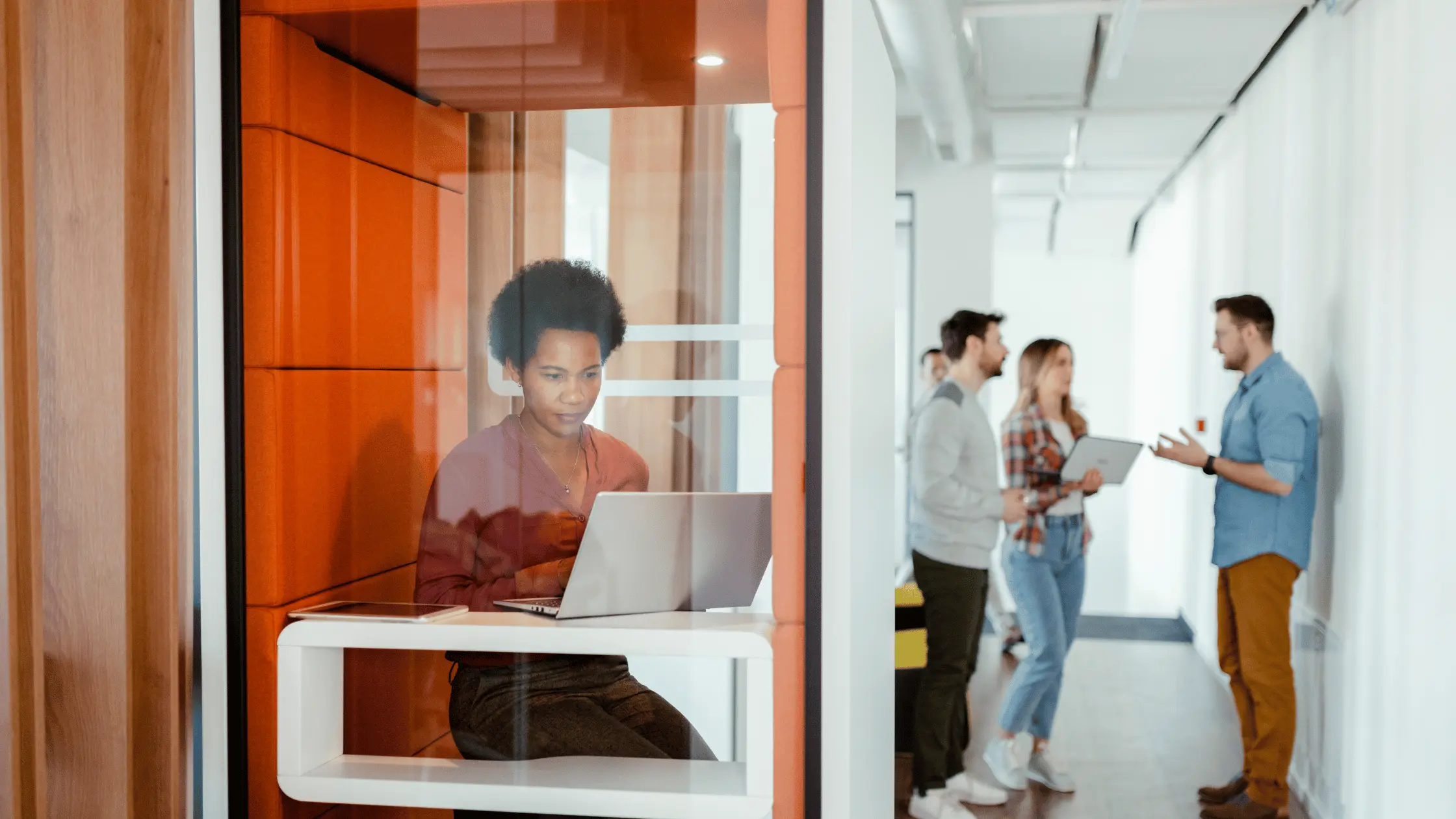 By using SimVenture Validate entrepreneurs are able to develop viable startup ideas and reduce the risk associated with starting a business.
As a result, individuals also develop clearer business ideas and make more informed business decisions before launching their startup. This saves entrepreneurs both money and time in the long run. It also provides startups with a far greater chance of surviving and thriving.
SimVenture Validate personal licenses are available for only £20 per year. If you are an entrepreneur looking to validate your business idea and launch a successful startup, explore SimVenture Validate today.