Business strategy game latest updates
Find out everything you need to know about the latest updates to our authentic business strategy game, SimVenture Evolution.
SimVenture Evolution, our online business strategy game, is currently undergoing some exciting new developments that will be released in the coming months.
If you're a current user of SimVenture Evolution, you'll already be aware that big changes are in development to ensure the platform continues to be the most authentic, engaging, and educational business simulation on the market.
You'll also be aware that we pride ourselves on providing you with the very best support. That's why we're always genuinely interested in your experience, ideas and feedback.
As a result of your most recent feedback, we are delighted to share the latest planned updates to our business strategy game, SimVenture Evolution. These updates are due to be released in September 2022 and will automatically be accessible to everyone who uses the simulation.
As such, we want to give you plenty of notice and support so you feel confident in using the simulation once these changes go live.
---
SimVenture Evolution's Modern Interface
Our software development team has been working hard these past few months to give SimVenture Evolution a brand-new modern interface.
This is by far the biggest change you'll notice when the newest release goes live. While this update doesn't significantly change the simulation itself, it will improve the user experience and make the platform more visually appealing. You can see some previews of the new look and feel in the images below.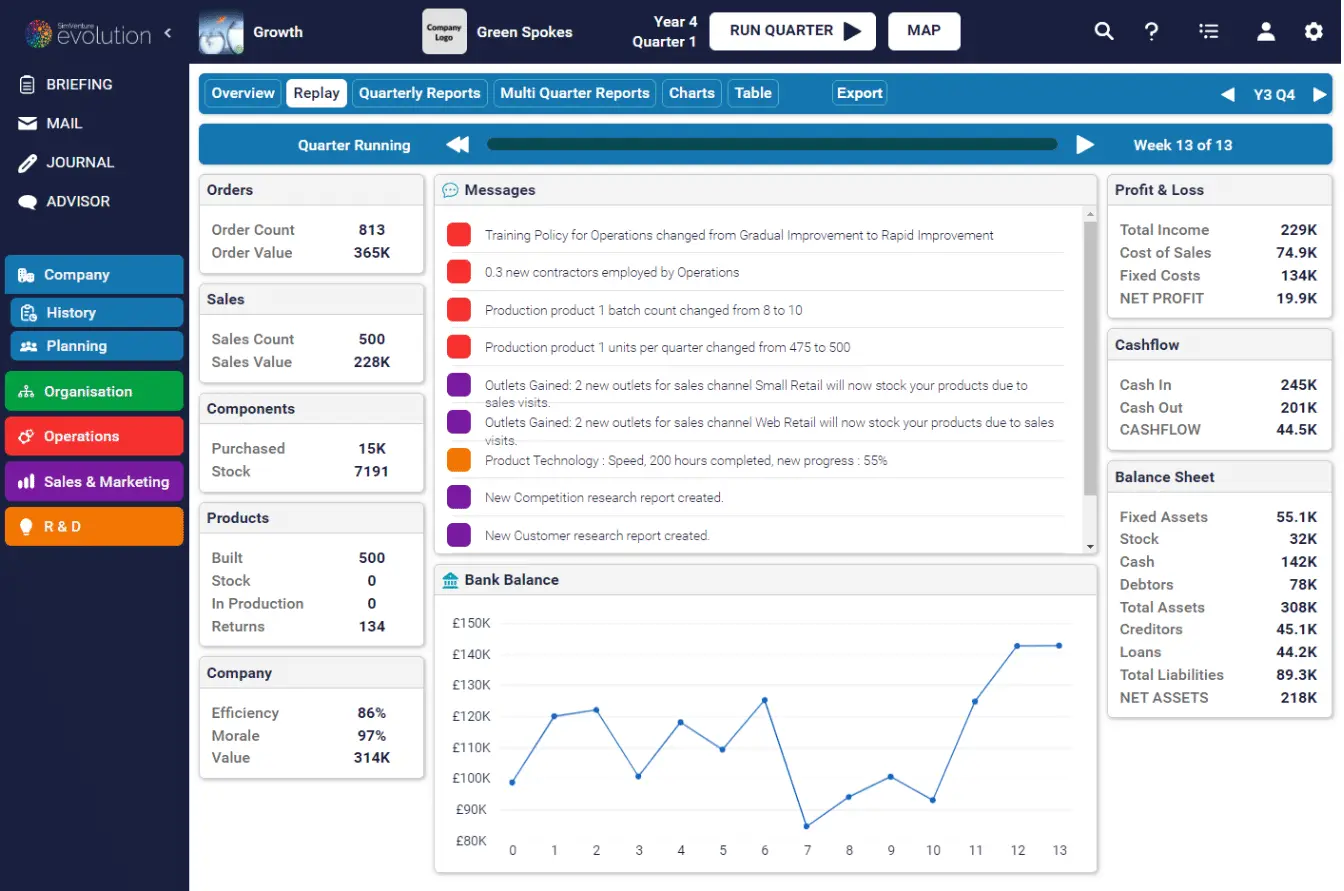 ---
Change Strategy Window Update
In the current version of SimVenture Evolution, the change strategy screen appears as a pop-up window that can be moved around the screen. In the newest version of the authentic business strategy game, this has now been changed so it stays within the main window of the application.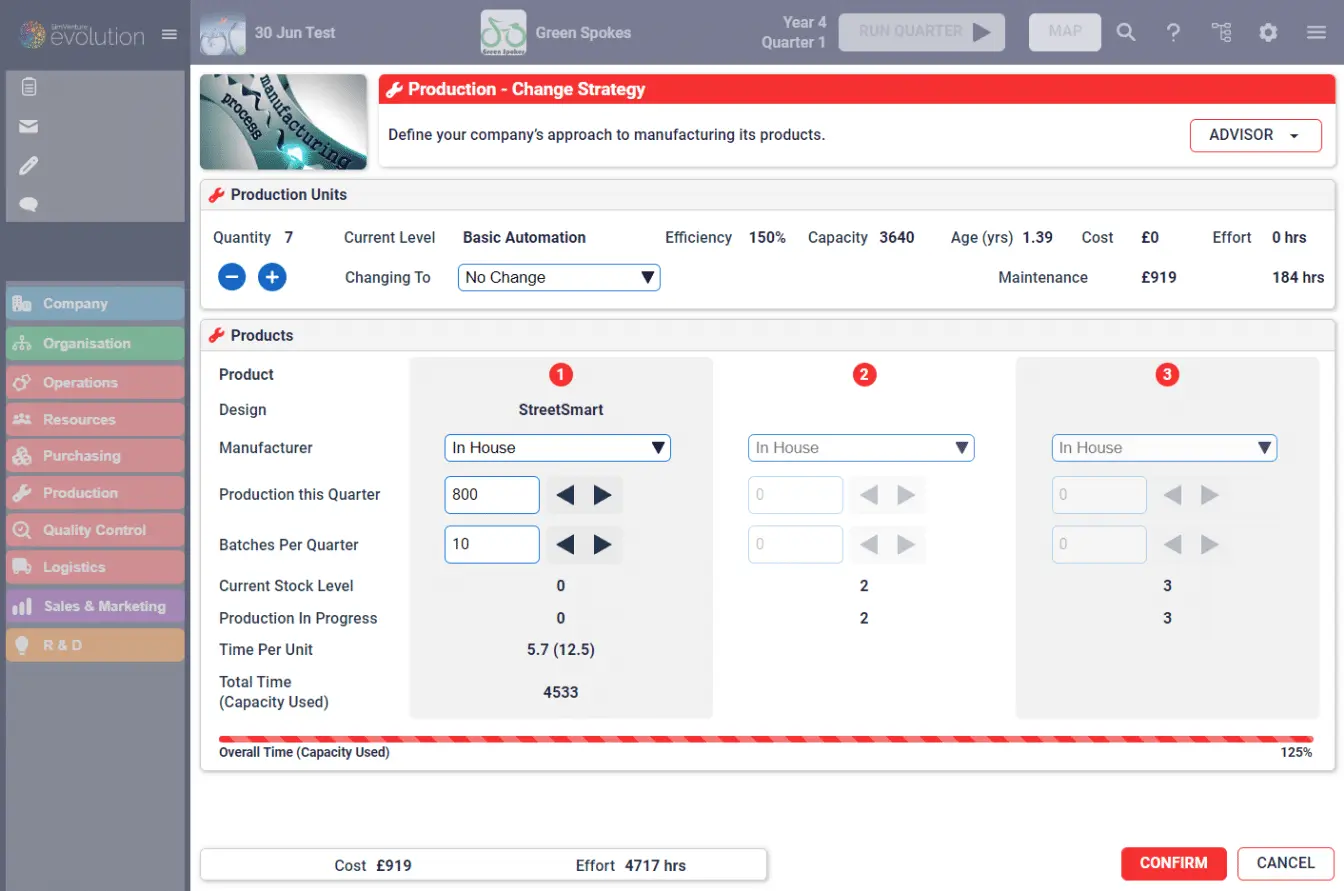 ---
Pop up windows to improve accessibility within the business strategy game
The information within the guidance section of each business area within the simulation will be more accessible thanks to the implementation of pop-up windows.
As a reminder, guidance is available within all business areas throughout SimVenture Evolution including:
Thanks to feedback from our users, we're aware that these guidance sections are regularly referred to by learners. Therefore, the pop-up windows are being created to ensure that this information can be kept open and referred to while making a strategic simulation decision and viewing game data.
This same pop-window functionality has also been added to the Briefing, Mail, Journal and Advisor sections in the top left of the main screen.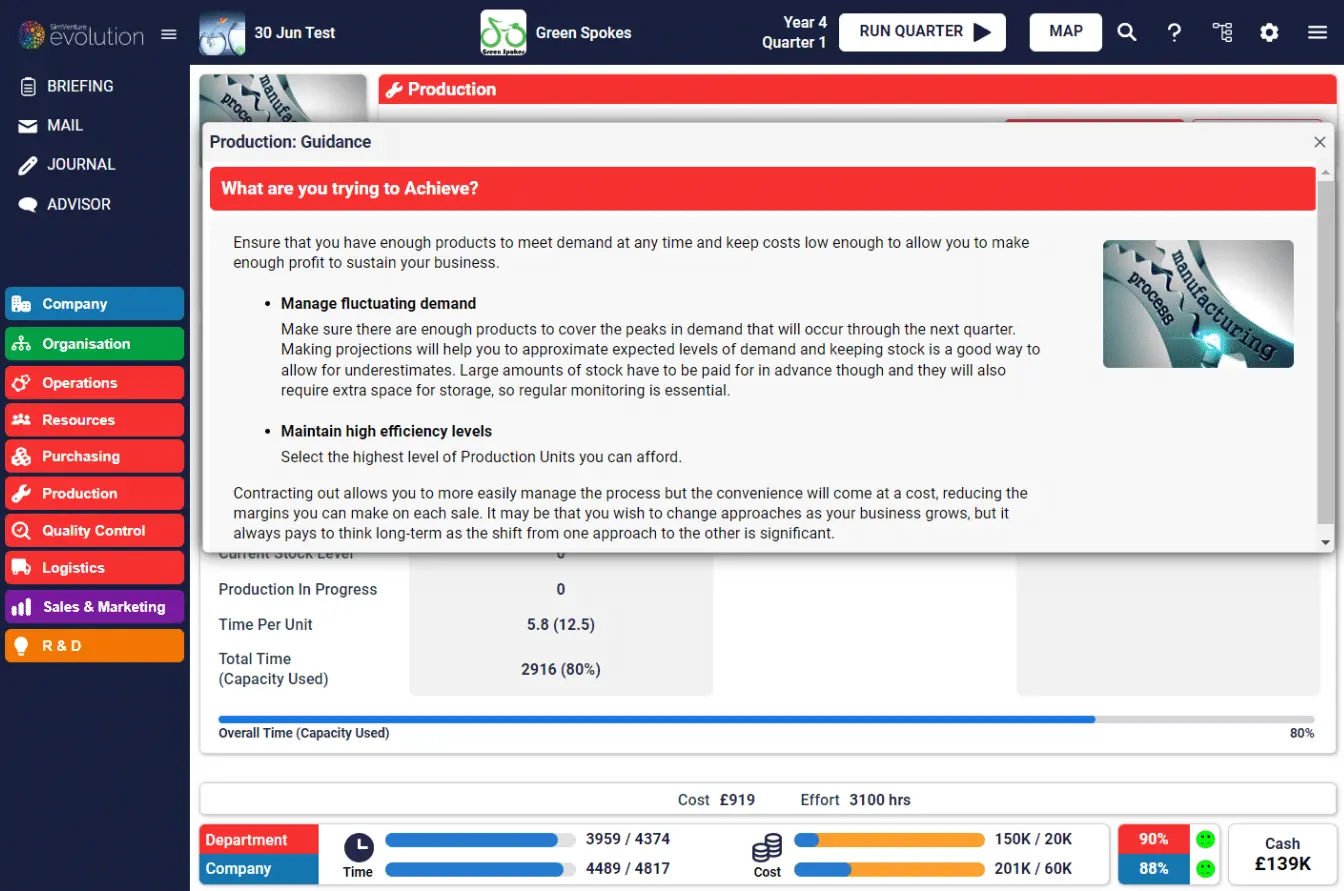 ---
Charts and graphs are even easier to read
Business simulation history charts and graphs have been updated so they are larger, clearer and easier to read.
This was an update influenced by the positive feedback we received from the updated history overview screen which was released in September 2021.
---
Company area now houses 'History' & 'Planning' sections of the simulation
SimVenture Evolution's company area has undergone a few tweaks including the inclusion of 'History' and 'Planning' under a new dropdown menu. You can see this in the menu on the left-hand side within the image below.
In the Planning area you will also find a Forecasting tool which allows learners to make predictions on their virtual venture's profit and cashflow.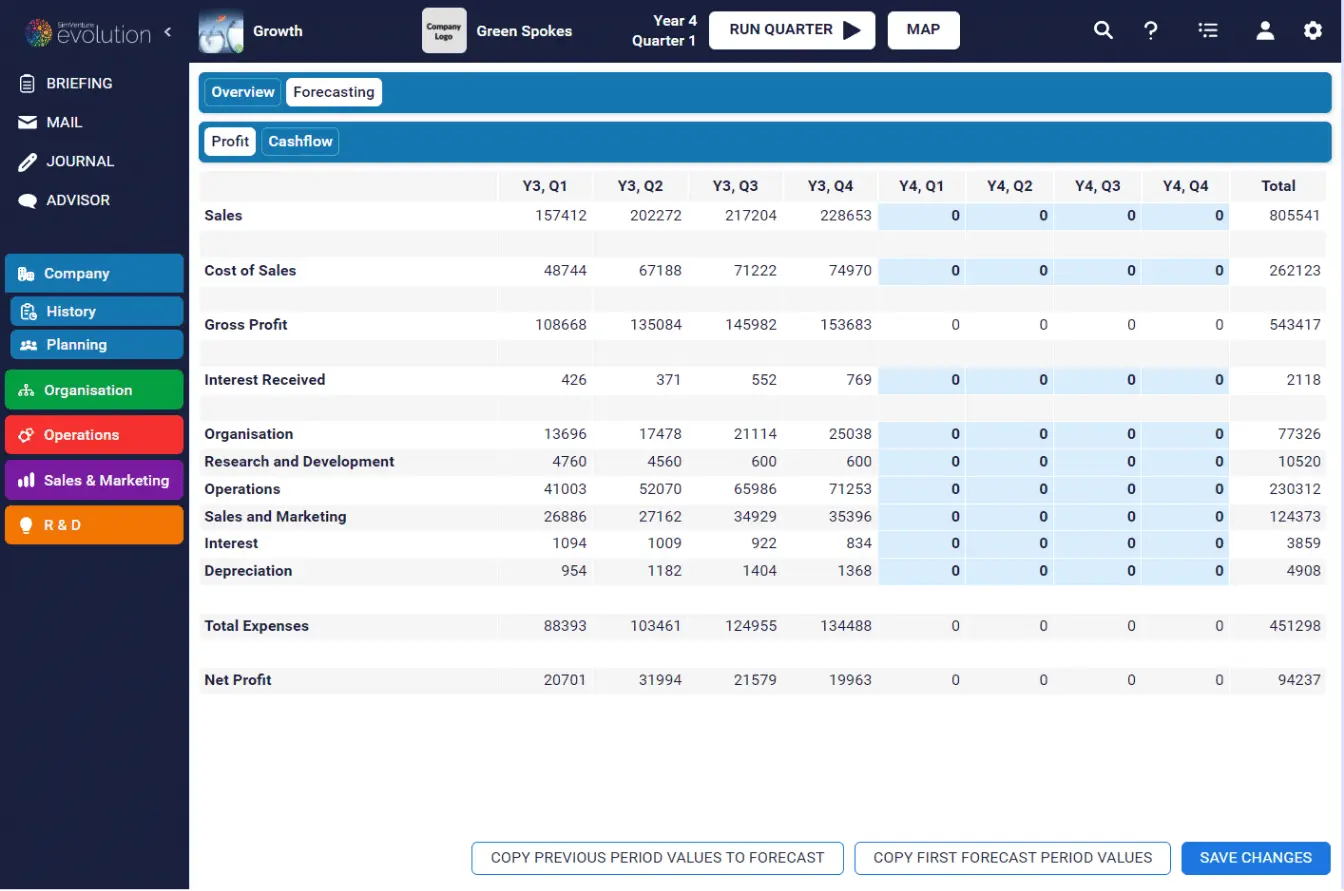 The History section has also moved so it now sits within the 'Company' area of the simulation as shown below.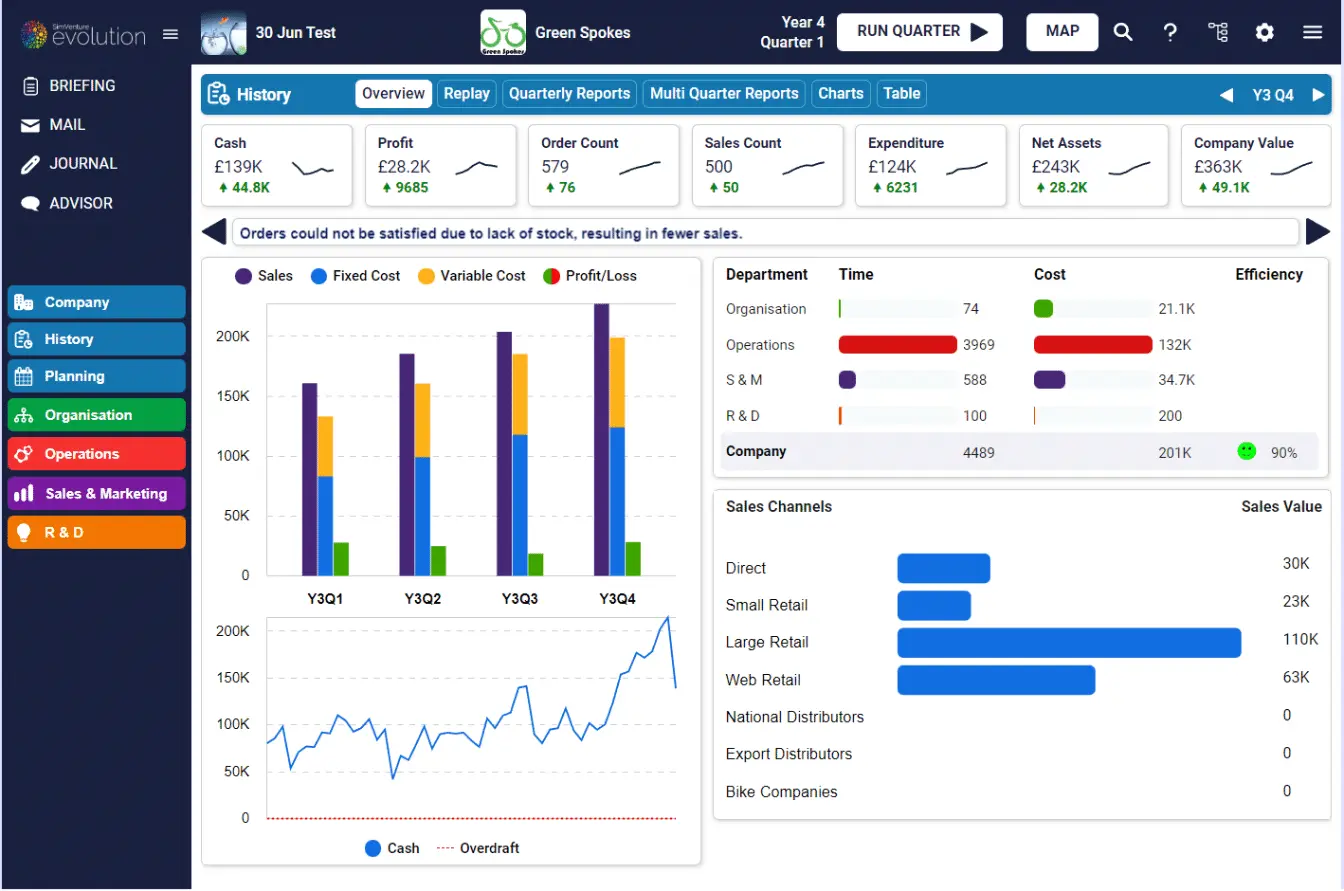 ---
Clear notification when production capacity is reached within the authentic business simulation game
A new notification bar has been added to the bottom of the Production area within the business simulation, giving learners a clear indication of their available production unit capacity.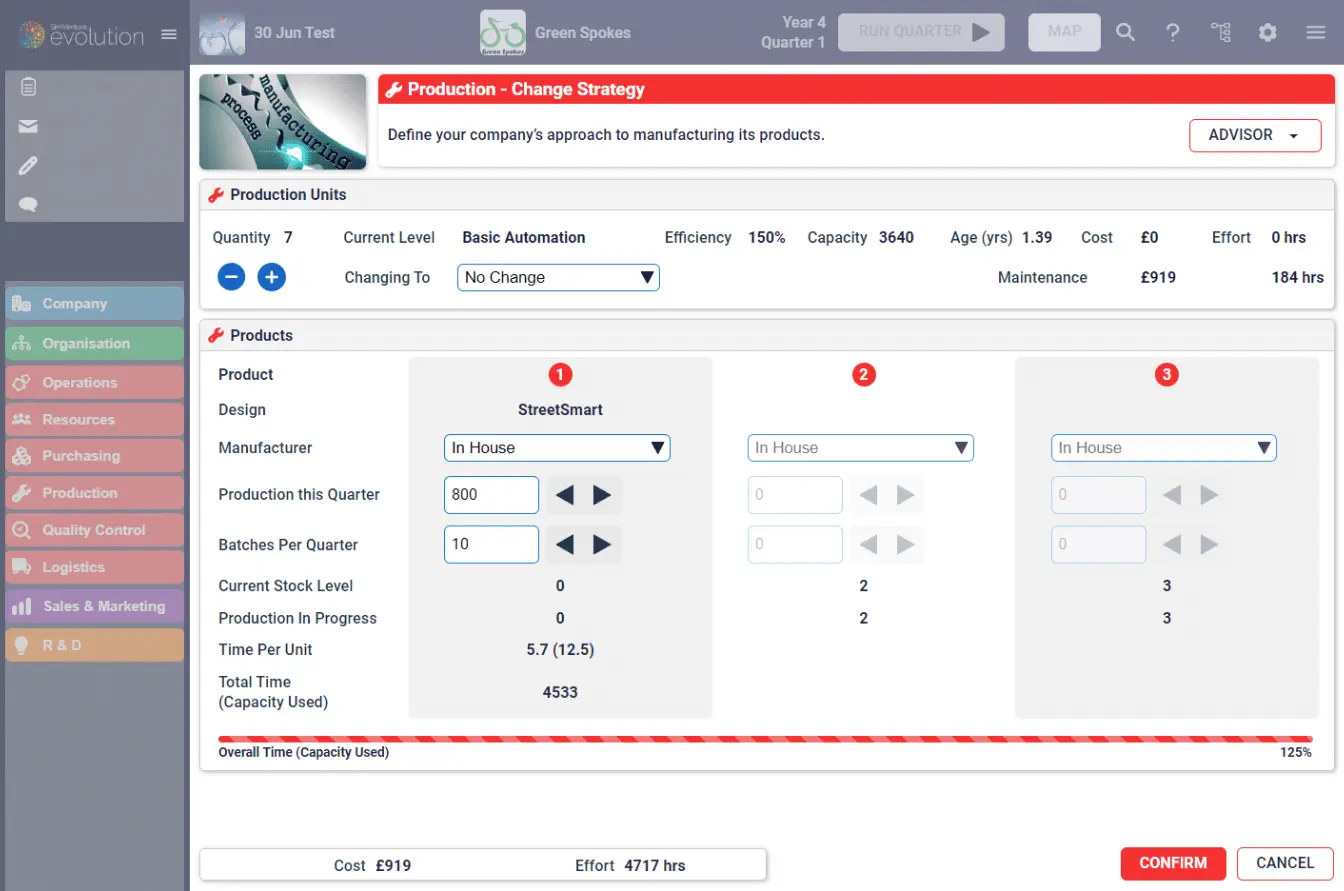 ---
New department overview pages
Department overview pages have now been created to provide users with a snapshot of key data within each of the business areas.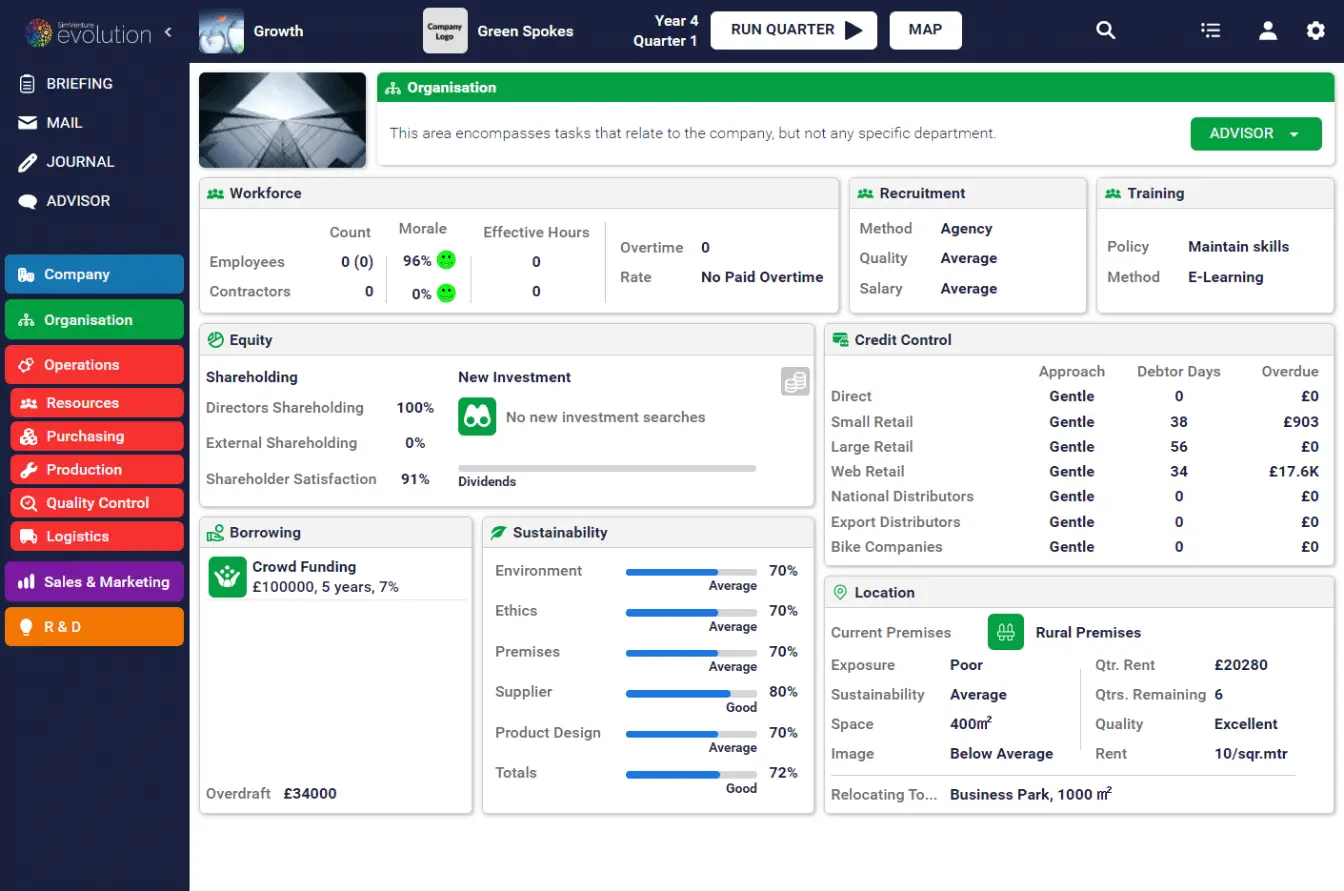 The department pages are also now accessible from two places – the department itself, or from the 'Company' section.
Simply click the relevant department to view the overview screen for that department. Alternatively, to get a snapshot of all department overview screens click on 'Company' and browse via the tabs along the top 'Company' menu.
---
Game Explorer within the business strategy game
The all-new game explorer allows users to view strategy data from another business area while they are making a strategy change.
For example, if a learner is designing a product but they would like to check what the branding strategy is, they can use Game Explorer to do just that.
Ultimately, the aim of this new feature is to make all data available as and when users need it.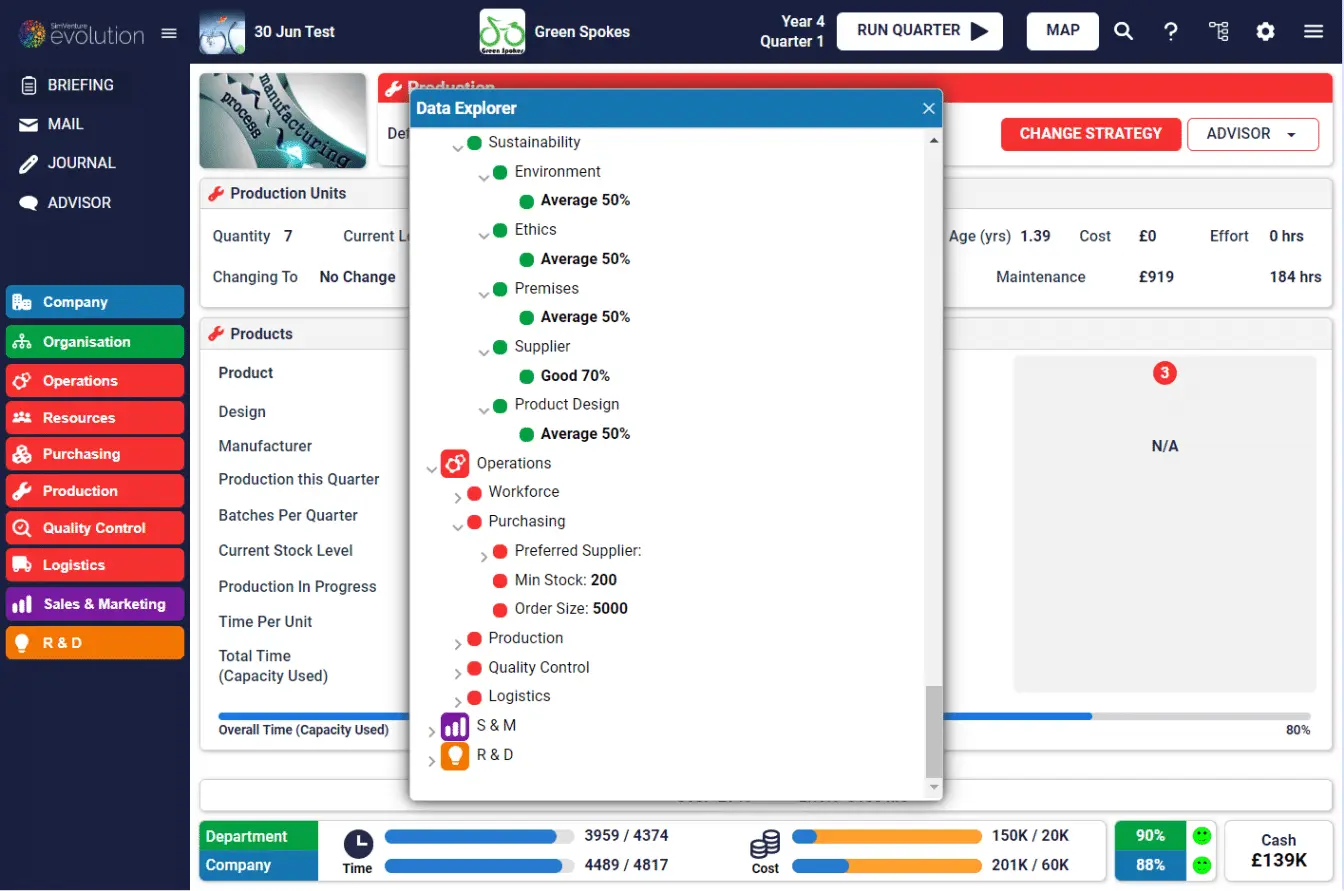 ---
See your strategy changes in one simple click
When users go to run the quarter, they will be given the opportunity to review their strategy changes. If necessary, they can then cancel or modify these changes.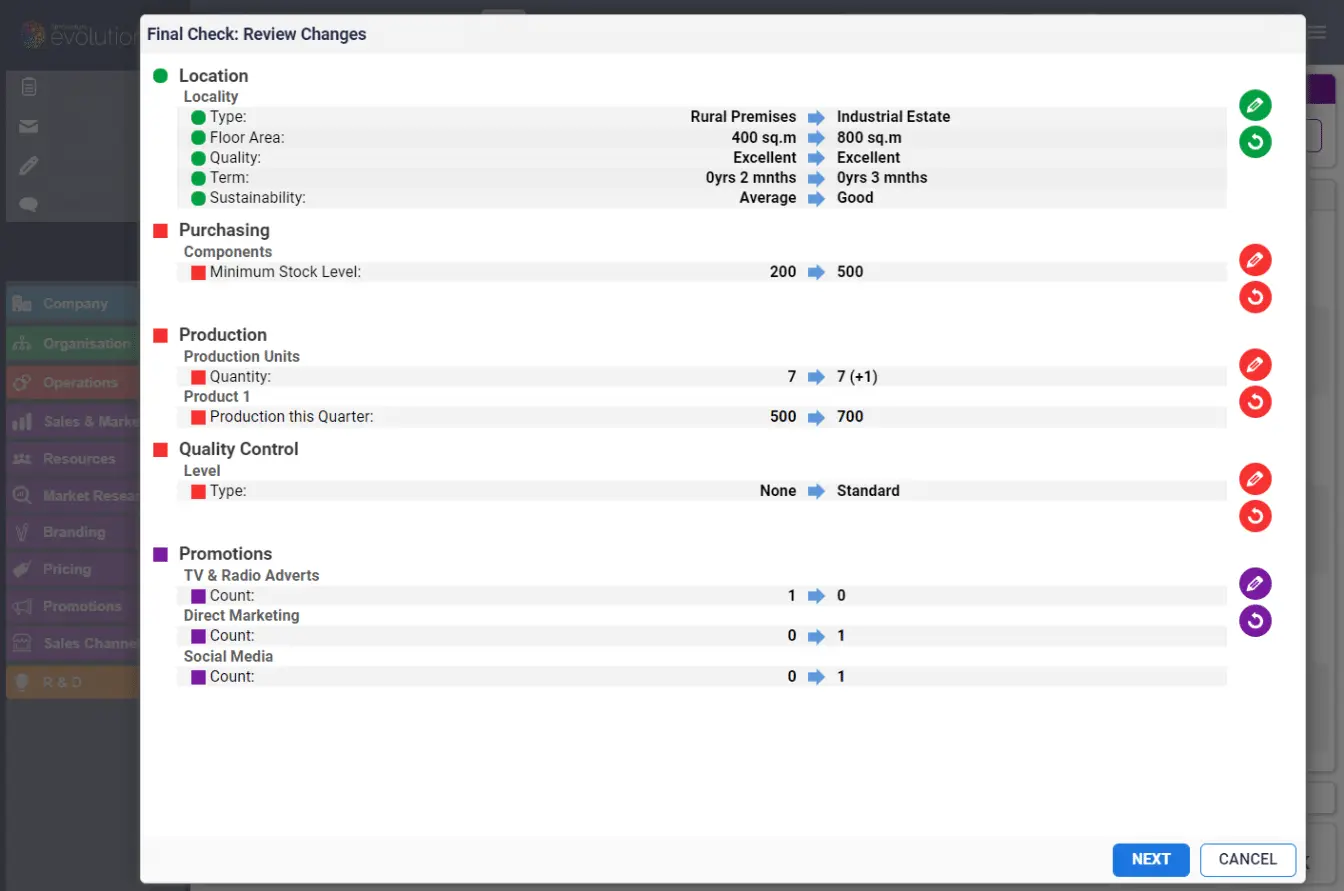 ---
Business Simulation security improvements
We're constantly aware of the need to maintain and update security to protect clients and users. Following an externally-led security audit, we have incorporated a number of new security measures. Due to the technical nature of these, many won't be visible. However, you may notice the captcha requirement when you login for instance.
---
Simulation changes
Following client feedback, we've made a few amendments to the simulation interface with the intention of simplifying some of the decisions users have to make.
An example of this is within Sales Channels, the discount will now be fixed for each channel to make it easier for players to make the right decisions.
---
Upcoming events for clients
While we hope you're looking forward to these upcoming SimVenture Evolution changes, we're also aware that there is a lot of new information to absorb.
As such, we are hosting a series of online events throughout July 2022 for our existing clients, providing them with the opportunity to tour the latest version of the simulation before it goes live. There will also be an opportunity to ask questions.
In the meantime, we look forward to hearing your thoughts and feedback.