SimVenture 2021 Christmas Gift Guide
Support small business this Christmas.
We've collaborated with our trusted university partners across the UK to put together a Christmas gift guide to help you support small businesses this holiday season.
If you are passionate about supporting people to achieve their entrepreneurial dreams and would prefer to shop with independent stores this Christmas, this list is for you. The collection of university connected, small business start-ups all offer unique products that make gifts which are perfect for Christmas, and that can be easily purchased online and delivered to your home. This is our way of giving back and supporting both the universities we work with, and many talented entrepreneurs from across the UK.
Thank you to all of our university partners for making this possible and for supporting students and graduates on their entrepreneurial journeys. This guide wouldn't exist without you.
For our readers, we hope you find a special gift to buy for a loved one this Christmas while also supporting a small business. Share this post with others to help spread the joy of the season this year.
---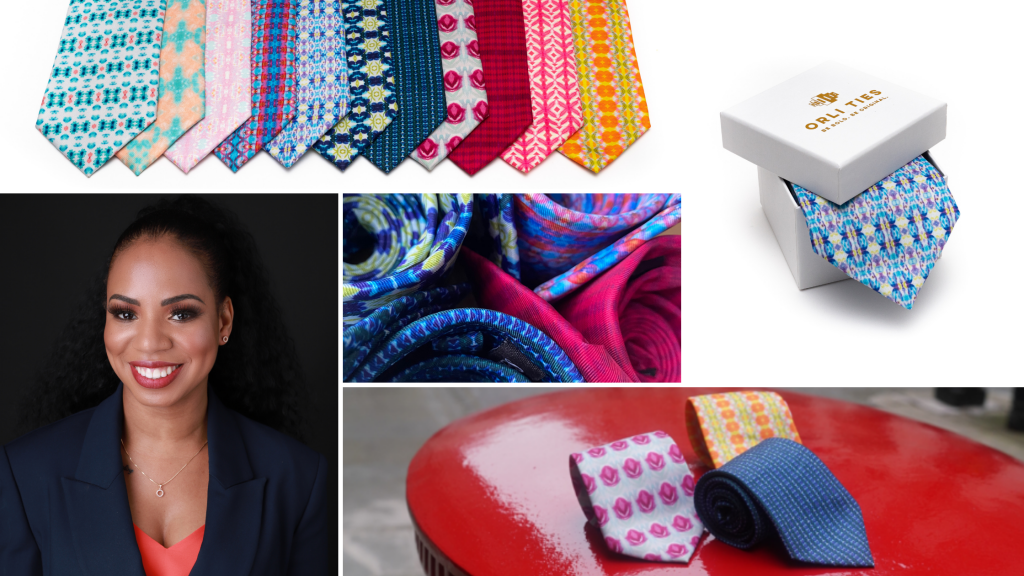 Bold, original, silk ties
Reviving the historic fashion of floral design, Orlities is all about creating high-quality, original silk-ties. Each tie features a hand painted sample, which is then edited digitally into a kaleidoscope pattern. Making a proud, bold statement, the patterns are printed onto pure silk twill and ties are handmade by experienced tailors whose pride in their craft ensures nothing but quality is delivered to the customer.
Eliora Orli is a Fashion and Textiles student at London Metropolitan University. After visiting the Victoria and Albert Museum, where she saw 19th century floral waistcoats worn by 'men of status', she was inspired to create Orlities. Her ties have all been named after different locations in London as Eliora feels the vibe resonates with the design on the tie.
---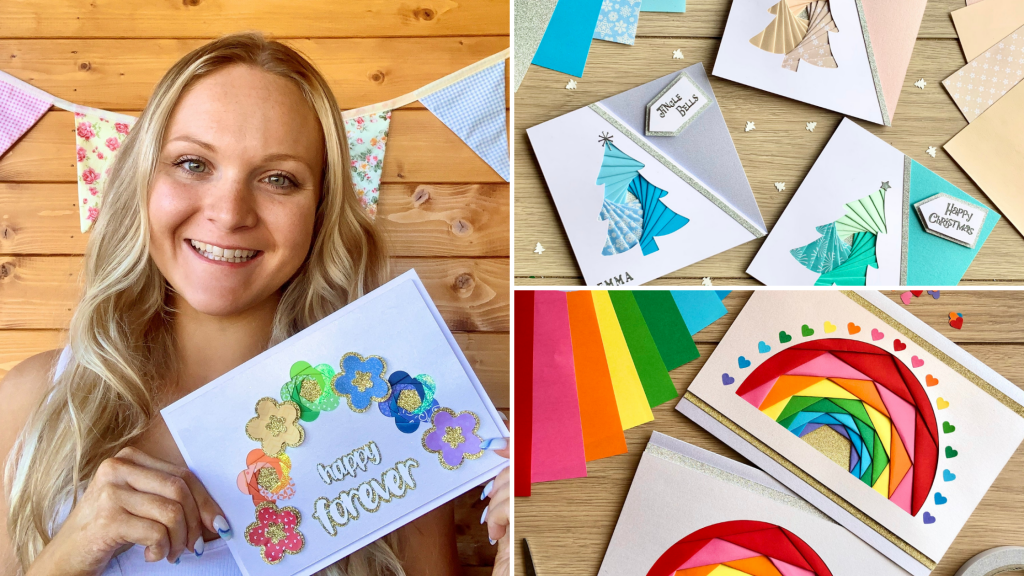 Craft yourself calm this Christmas
Pretty in Paper offers contemporary craft materials and kits allowing people to create their own designs whilst relaxing and enjoying the mindful experience. The range of kits and digital resources available simplify the art of iris folding, making the craft much more accessible so complete beginners or experienced artists can indulge themselves in something new.
Aged 8, Yorkshire-based founder and University of Huddersfield graduate Bethan Aspland learnt the art of iris folding from her gran. Bethan discovered the beauty of folding paper strips to create a unique spiral effect. Seven years later she was diagnosed with Chronic Fatigue Syndrome and spent 2 challenging years in a wheelchair. Remembering iris folding, Bethan found joy through creativity. As a result of sharing her work and starting a business, she empowers thousands of people around the world to do the same.
---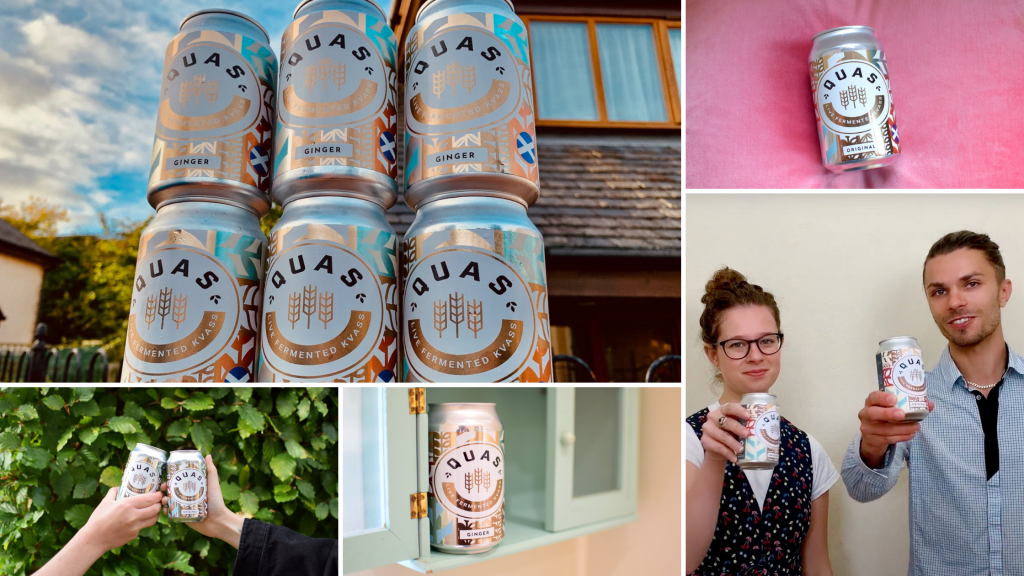 Healthy teetotal tipple
Fancy a glass of Kvass this Christmas? This non-alcoholic, plant-based beverage is naturally carbonated, and is packed with natural flavours and a lovely tangy acidity. There's no filtering or pasteurisation in the process, so you get all the raw nutrients, vitamins, and probiotic bacteria. Produced for the first time in the UK, every can is hand-prepared before being delivered to your door.
A Russian native, Anton Puzorjov fondly remembers drinking a cold fizzy glass of Kvass as a child. Today, he is one of an ever-growing band of health conscious teetotallers who seek a healthy and tasty alternative. Anton and his co-founder Jessie Fitts are University of Edinburgh graduates. Anton is currently finishing a PhD in Biotechnology and Jessie holds an MSc in Applied Animal Behaviour and Animal Welfare.
---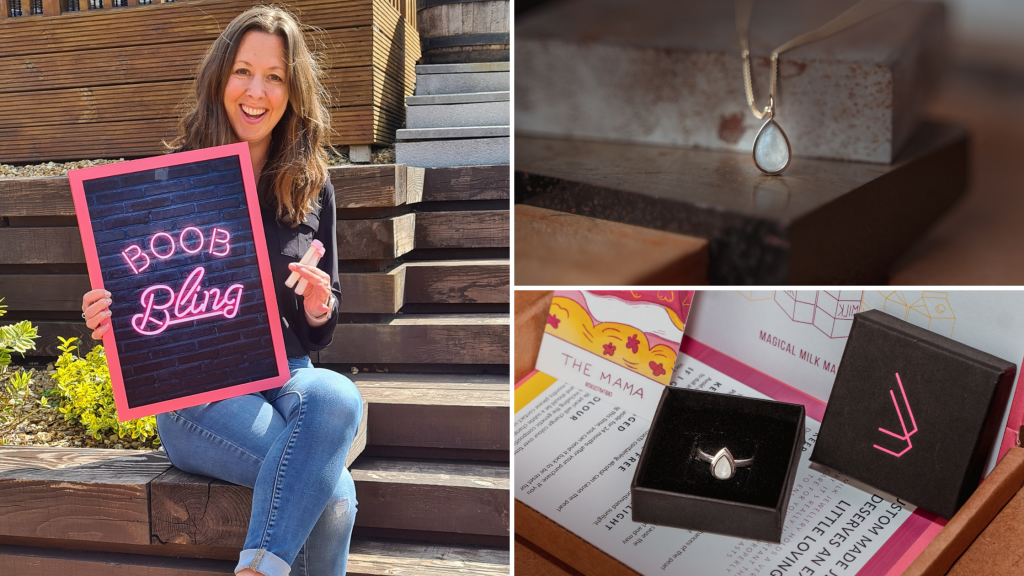 Mum's most precious jewellery
Boob Bling creates fabulous jewellery from breastmilk. All breastfeeding mums understand how precious the journey with their baby can be. Boob Bling captures memories for mothers by providing a breastmilk jewellery keepsake that can be cherished and worn forever. With premium and bespoke designs on offer, the team of talented jewellers make pieces in silver, gold and rose gold. Birthstone jewellery is also available.
Lauren Devine is the founder of Boob Bling. She left a career in corporate banking to follow her passion for making jewellery. Lauren studied Business Management at Edinburgh Napier University.
---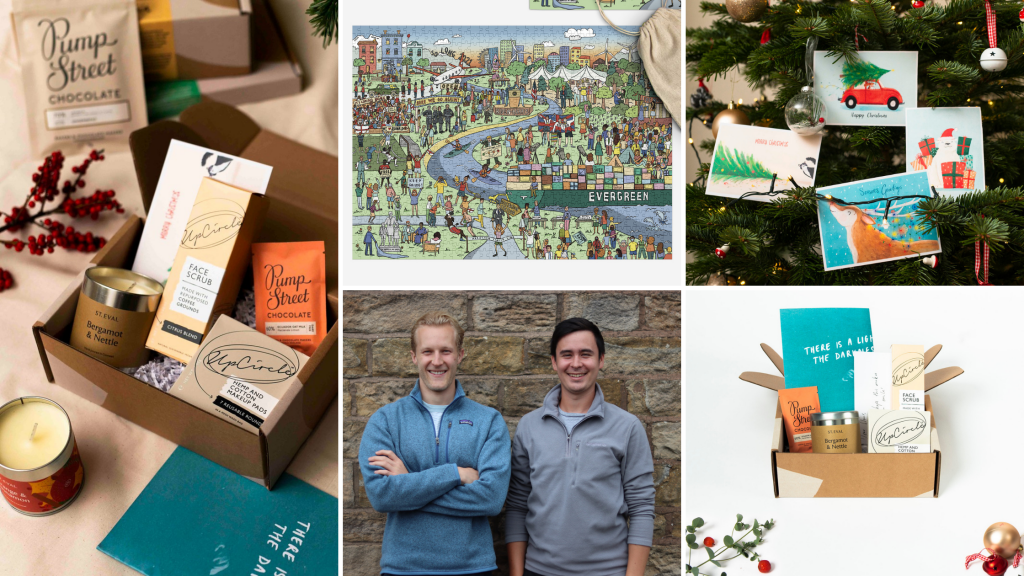 Great gifts for people who matter to you
Karibu Box is on a mission to fix the Christmas gift market so the gifts you give bring joy to the people that matter to you. Explore the Karibu Box website and find great gifts for customers, colleagues, friends and family. Amongst other great presents, discover the puzzle depicting the best (and worst) moments from 2021 – from the vaccine rollout and the Euros, to the recent petrol crisis.
Close friends, Jordan and Benji both studied at Lancaster University. United by the pandemic, the value of giving and a shared desire to improve the Christmas gift market, the duo established Karibu Box. The founders see their work as a force for good and are passionate about helping others to connect and build better relationships. At Karibu, 10% of all profits go to foodbanks and charities.
---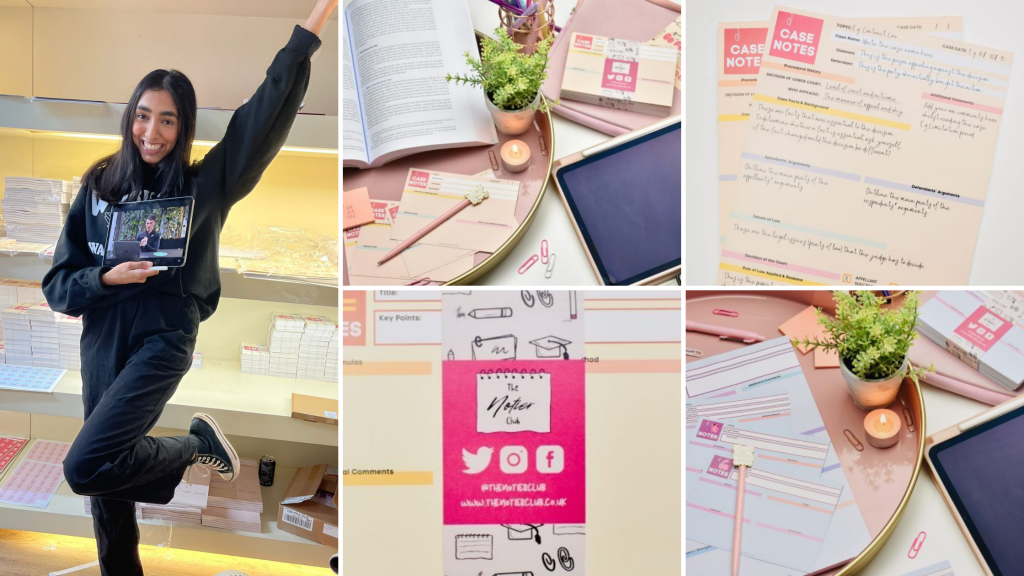 Learning never stops stationery
The Notier Club was founded with one person in mind… you! All their learning products have been developed and designed by a research team specialising in subject areas ranging from law, medicine and pharmacy to mathematics and more. Notier Club stationery, including notepads and flashcards, are designed to increase study efficiency and motivation. 10% of all profits are donated to the Malala Fund. 
Lancaster University Law student Ammarah Taylor, created this business to support people who may be struggling with their studies. Inspired by her own difficulties with learning whilst at university, Ammarah is keen to help others organise and format notes so that subject understanding and revision is more rewarding and less stressful.
---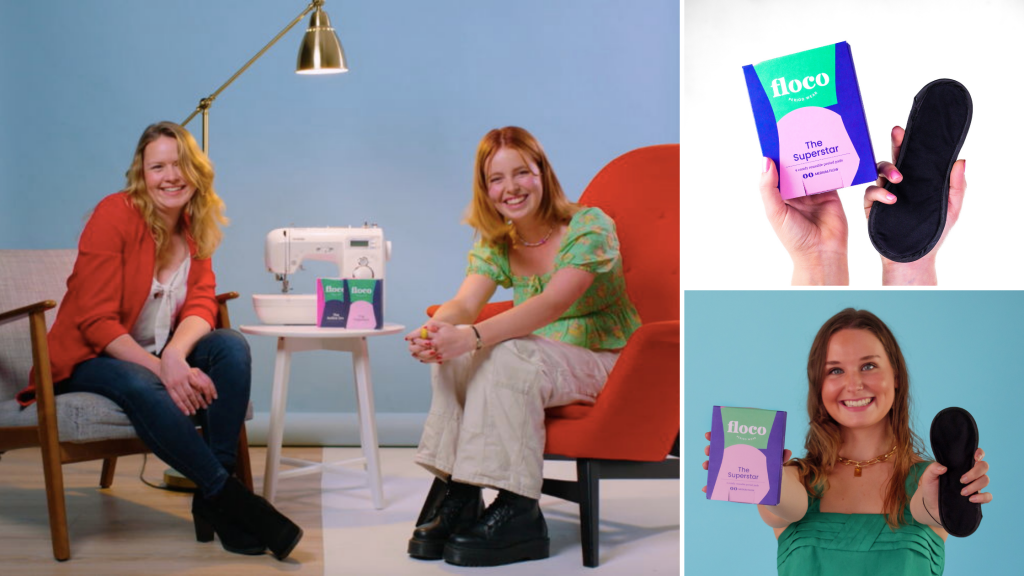 Bringing comfort and joy
Floco is on a mission to help everyone who flows have the best period they can. By designing high quality, comfortable and discreet reusable period products they ensure no one has to compromise on quality when seeking to live sustainably. Floco's success means they now work across 8 countries donating products and training women to run their own pad projects. As a team, Floco also delivers fun and inclusive puberty and period workshops across the UK.
University of Edinburgh graduates Alison Woods and Mhairi Cochrane started their entrepreneurial journey in rural Kenya after learning about the impact of period poverty. Mhairi and Alison are passionate about equality, education and innovation and through their courage and hard work seek to give everyone the best life they can.
---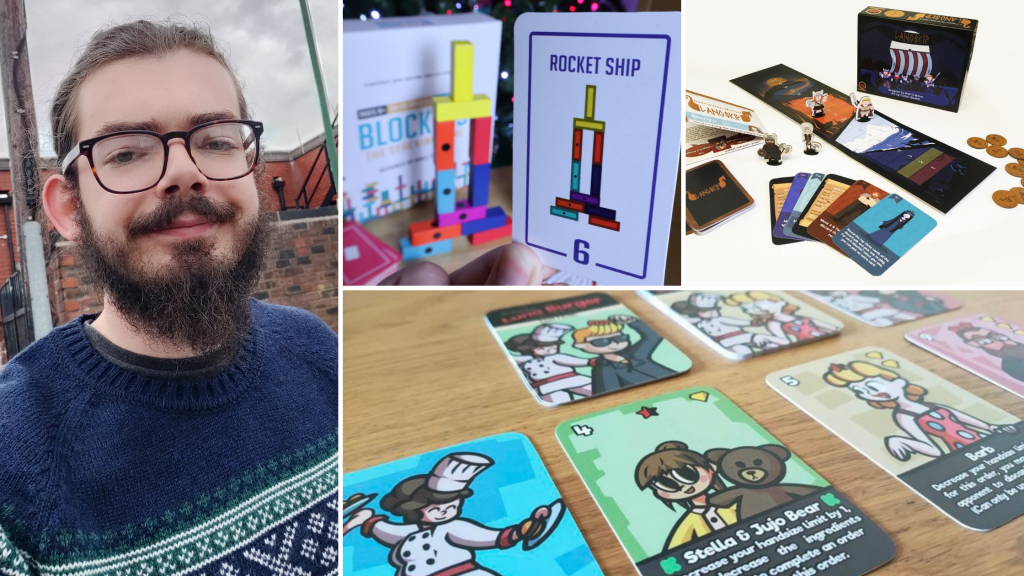 Original board games for the family
For many, playing games is an essential part of Christmas. Niall at Crab Studios has created an exciting range of new, completely original board games which are perfect for the festive season. Easy to understand, so family members young and old can quickly join in the fun, Niall believes his inventions will turn players into board game enthusiasts.  
A Computer Games Design student at the University of Huddersfield, Niall chose to turn his gaming hobby into a business when he discovered other people really liked his work. Not only does Niall create new games but he also runs regular game nights for fellow students and friends at the university.
---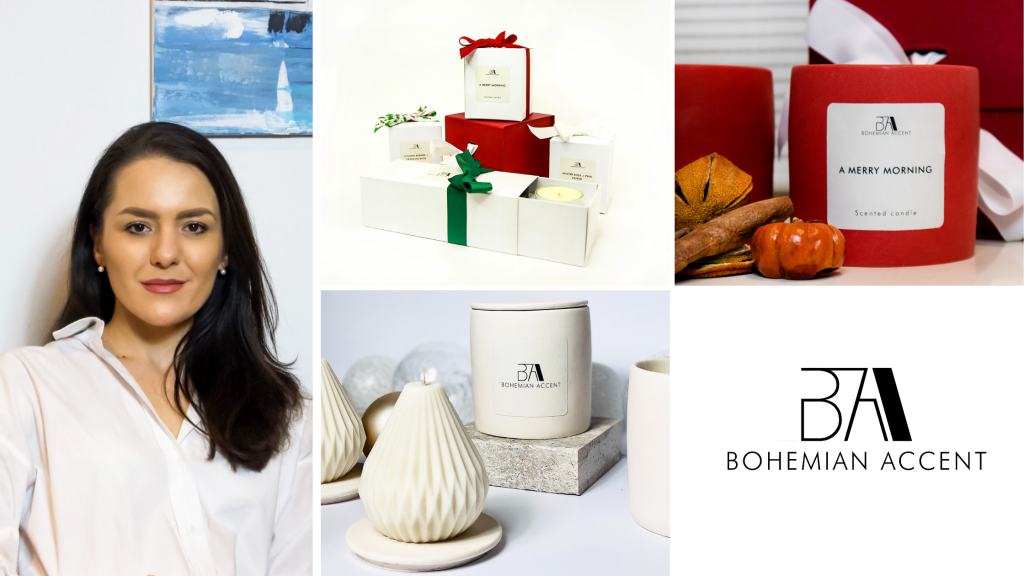 Eco-friendly hand-crafted homewares
At Bohemian Accent you'll find carefully crafted eco-friendly materials all beautifully wrapped in plastic-free recyclable packaging. Bohemian Accent offers home-décor products with a thoughtful and sustainable touch. If you are inspired by nature, check out the website where amongst other things you'll discover candles made from CocoSoy wax, cotton wicks and vegan reed diffusers.
With a strong background in Art, Design and Photography, Ioana is a third year student at London Metropolitan University. The concept for Bohemian Accent took life in 2020 as a response to the pandemic when people had to slow down, reflect and appreciate the little things in life that matter. Ioana's entrepreneurial work is all about creating simple, uncluttered and authentic products that complement our homes.
---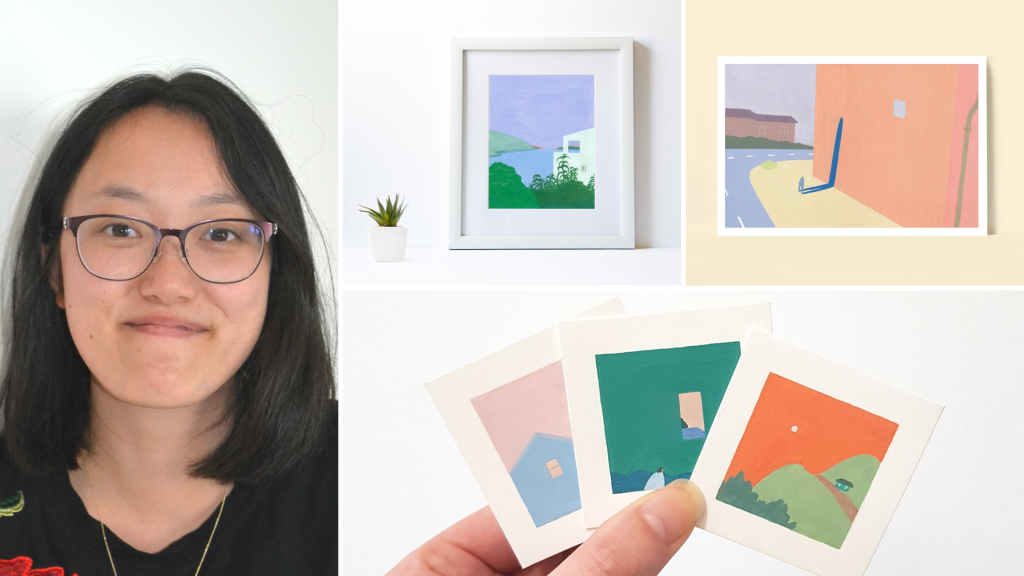 Bespoke paintings and prints
If you seek small and affordable bespoke gouache paintings and Giclée art prints then consider Illoustration. Minimalistic in style and focusing on evocative colours and shapes, artist Loulou's work seeks to bridge the gap between fine art and illustration. All completed work typically centres around the commissioner's memories – their holidays, their home and garden, or a place that's special to them. 
London-based Loulou graduated from the University of Westminster with an Illustration degree in 2018. She has been selling art and working for magazines ever since. Loulou is inspired by nature and has a real love for creating small-scale intimate scenes.
---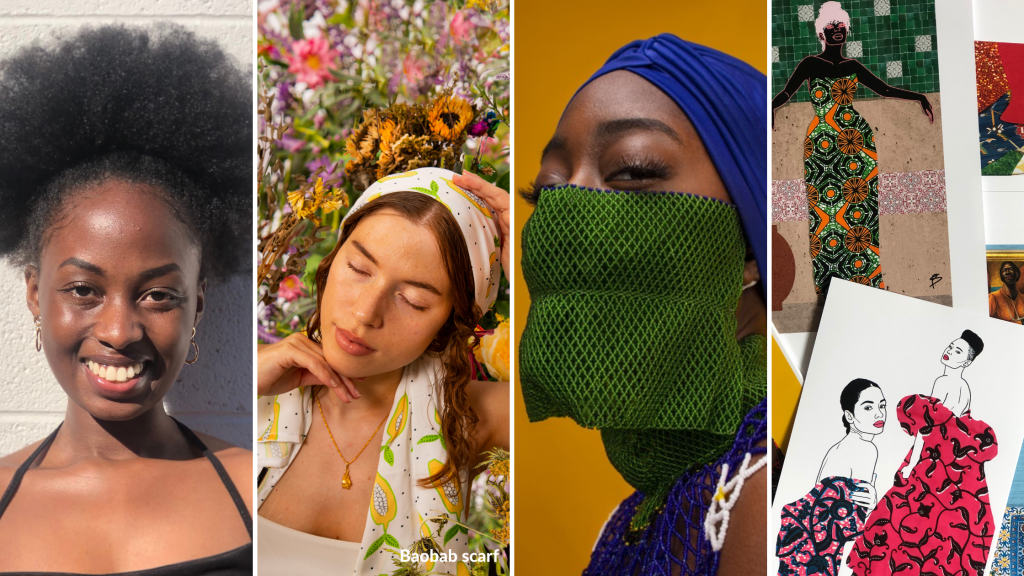 African art and fashion collide
Anyone who is moved by African culture will love the art and fashion designs available from Precious Seronga. Inspired by the Maasai women of Tanzania, Precious' illustrations combine Haute Couture designs with African print. Take a look at her website to appreciate how Precious Seronga has woven the vibrant beauty of African culture into her work.
On arrival in the UK in 2018, Precious discovered the lack of positive African representation in the mainstream media. TV ads focused on charity and poverty. Yet Precious knew there was so much more to the vibrant beauty and culture of Africa. This misrepresentation inspired her to use her artistic skills to share a more positive story. Having completed an undergraduate degree in Leeds, Precious is now studying towards an MA in fashion, entrepreneurship and innovation at the London College of Fashion.
---
The Lost Artist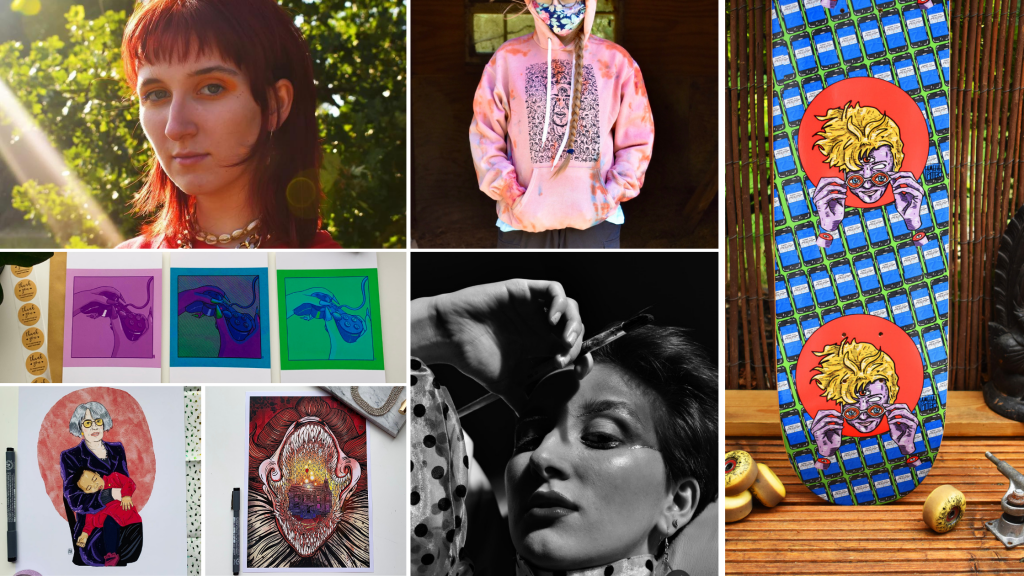 Storyboard artist and illustrator
Anyone who loves contemporary artwork should have Amelia Potter on their Christmas wish-list. A freelance storyboard artist and illustrator, Amelia offers captivating images ranging from skateboard designs, movie prints, comics, editorial, surreal photography, recycled fashion, album covers, screen prints to personalised portraits.
Amelia started working for herself after graduating from the University of Westminster in 2020 with a First Class BA Hons in Illustration and Visual Communication. Her interest in illustrating storyboards began with a 'Guinness' advert and she credits her journey at Westminster as an incredible experience.
---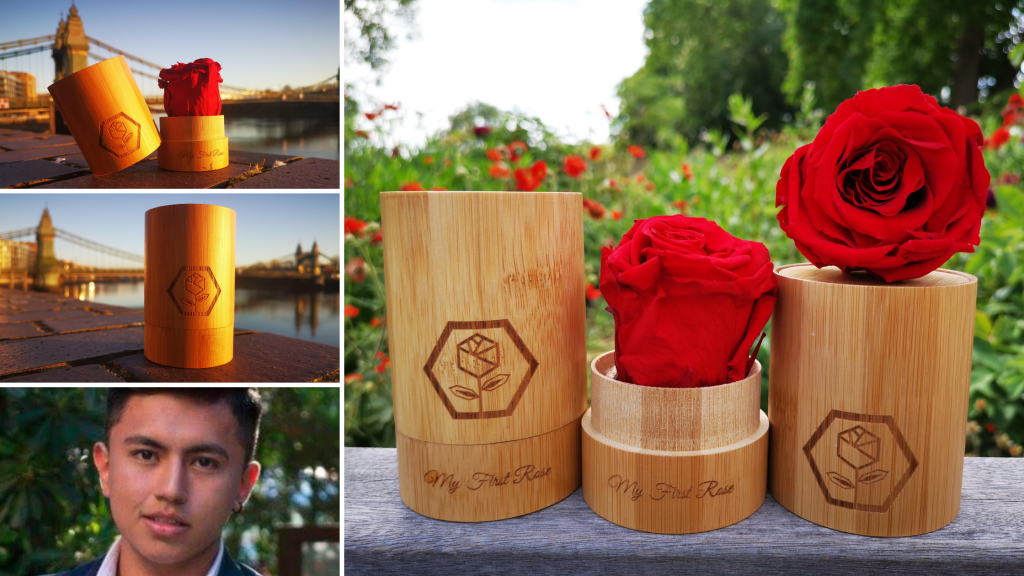 Share your love with a remarkable rose
Imagine giving a loved one a beautiful rose that lasts for years. Preserved naturally, these stunning and timeless flowers are the perfect gift for that special someone in your life. Each rose is carefully selected and hand-picked in Ecuador; the place where the finest roses in the world grow. A range of rose colours and sizes are available and each flower is displayed in a hand-crafted bamboo case.
Through research and travels LSBU student Steeven Armas discovered the best roses in the world were grown in his home country of Ecuador. Keen to start a flower-based business in the UK Steeven also discovered the magic of 'eternal roses' which are now the basis for his flourishing business in London.
---
University Christmas Festivities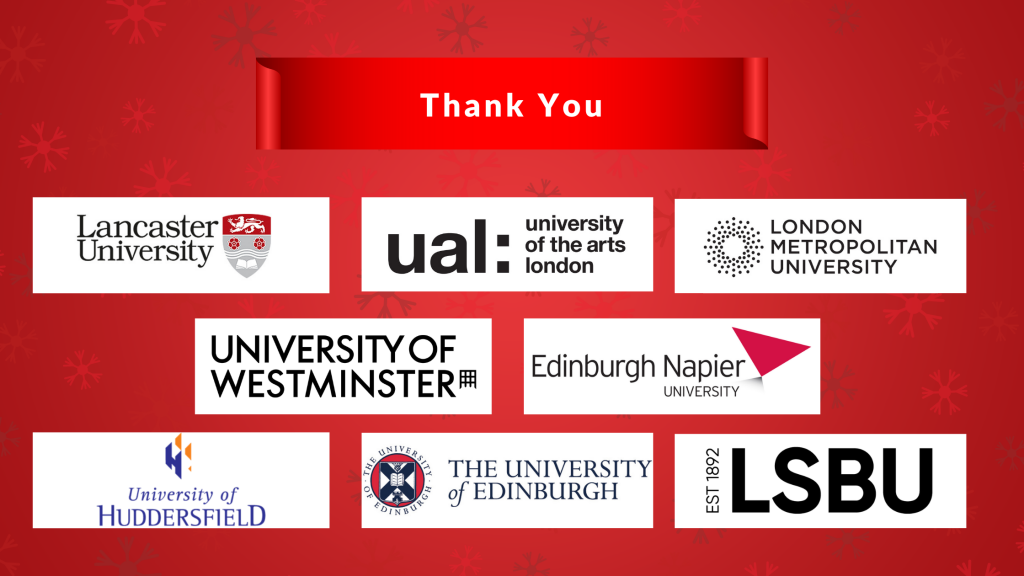 From Christmas gift guides, physical and online Christmas markets, to Christmas concerts and plays, many universities across the country will be hosting various holiday festivities throughout this jolly season. Just like the online Christmas Market hosted by London Metropolitan University.
We highly recommend taking a look at your local university calendar to see what fun festivities are on offer which will afford you the opportunity to buy great gifts for your loved ones, while supporting small businesses and your local communities during these uncertain times.
Special thank you again to our university partners who connected us with these wonderful entrepreneurs and their businesses to make our SimVenture 2021 Christmas Gift Guide possible.
---
Wishing you a very Merry Christmas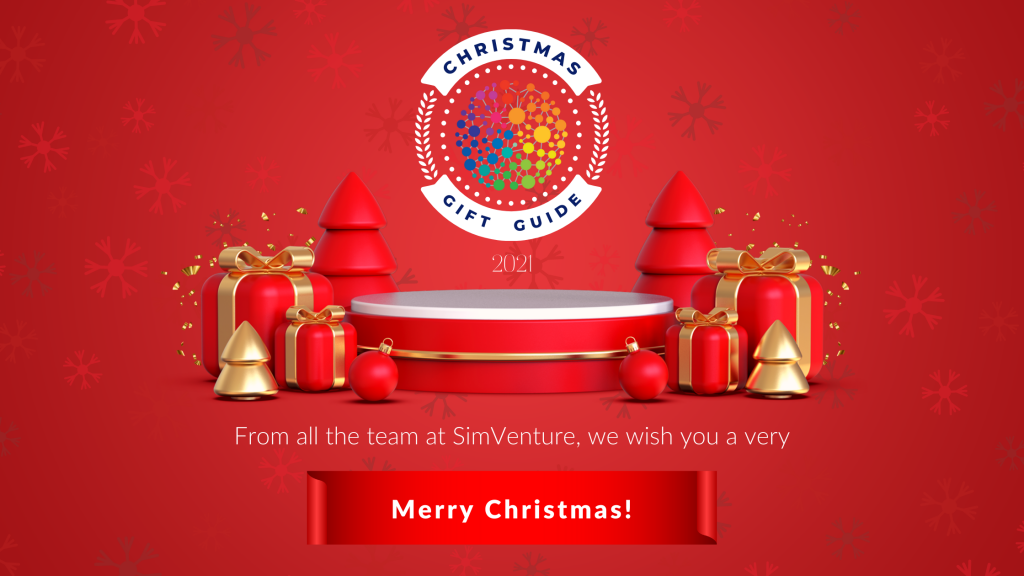 We hope you have enjoyed this year's SimVenture Christmas Gift Guide and that you have been able to find an exciting and thoughtful gift for a loved one this holiday season.
Please do spread the word and share it with others who could use a helping hand with gift hunting this Christmas. The more we can share the great work of small businesses, the more support these entrepreneurs will receive.
If you'd like to learn more about each entrepreneur and their business startup journey, you can also find us on social media (click the four buttons below). Alternatively, head to their websites and get in touch directly.
From all the team here at SimVenture, we wish you a very Merry Christmas and our best wishes for a fabulous 2022!
Connect with us on social media
And just so you know…
The team at SimVenture has created this gift guide entirely for free so you can buy directly from the small businesses. None of the featured entrepreneurs or universities are charged for appearing in this guide and no commission has been or will be taken from any sale made. The team at SimVenture simply wants to help you to help small businesses this Christmas.