Fast-track commercial talent
If you are keen to fast-track commercial talent within your organisation, then consider using our immersive business simulation game. People are quickly engaged within the authentic learning solution and the flexibility of the software allows you  to test and develop commercial talent in a variety of ways and settings.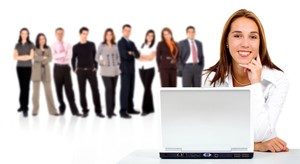 Recruitment & Selection
Finding people with real commercial talent and/or the ability to lead others is never easy. Using SimVenture Classic as part of your recruitment and selection process will help you to identify people with the potential to make a powerful difference to the future performance of your organisation. Using existing or bespoke scenarios within the simulation, you can set timed tests or tasks to establish candidates' appreciation and understanding of how a commercial organisation functions. The business simulator also allows you to test specific knowledge of key issues or focus on a broader understanding of commercial business. The SimVenture team will work with you to help shape what you require so that the solution we develop solves your problem.
Building business skills
Building capacity through the development of business and entrepreneurial skills helps to accelerate individual, team and overall organisation performance. SimVenture Classic allows people to immerse themselves in the running of a whole business and gain a much deeper understanding of how a successful company operates.
Whether you are working with a small group or a large team of people we can supply software and design bespoke scenarios that incorporate specific challenges. You can decide on the learning emphasis, be it business development, finance, operations or organisational matters. Or you might want to fast-track commercial talent by incorporating all these issues.
Team-building and Events
If you are seeking to fuse learning and fun, SimVenture Classic is your perfect partner for a team-building or company event. The software is able to engage people for long periods of time but is flexible enough to fit in with your timescales. Expert SimVenture Classic facilitators are also available to run events and will prepare and work with you to deliver the outcomes you seek.
Next steps
To find out more about the business simulation and/or discuss how SimVenture Classic might help you, contact the team.