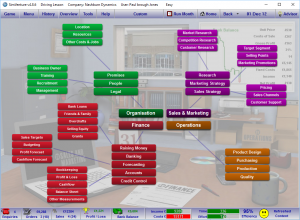 Business Game Key Features
No other small business game has the comprehensive range of features and depth offered by SimVenture Classic
Learn about the functionality of our multi-award winning simulated business game on this page. You'll discover all the business areas that SimVenture Classic covers, how the business simulation works and what user help/support is provided within the learning solution.
Learn by doing
If you'd prefer to learn about SimVenture Classic by using the software, then download a free demo copy of the simulation via the button below. The demo copy does not expire and allows you to run a virtual company for up to 6 simulated months as many times as you like.
Please note, SimVenture Classic is PC Windows software. For Mac use, Windows emulation software is required or you you need to have a recent version of Windows installed on the Hard-drive using Bootcamp.
Business Areas within SimVenture Classic
The simulation includes all the following business functions:
• Market Research , Competition Research, Customer Feedback
• Marketing Promotions, Advertising, Direct Marketing, Public Relations, Networking, Website, Events and Exhibitions
• Pricing, Target Markets, Selling Points Sales Channels, Distributors, Personal Selling
• Product Design, Purchasing, Production, Quality Control
• Banking, Accounts, Bookkeeping
• Loans, Equity Investment, Grants, Overdrafts
• Forecasting, Profit & Loss, Cashflow, Budgets, Targets
• Premises, Relocation, Staff Skills, Resources, Legal
• Recruitment, Selection, Management, Training,
• Time Management, Efficiency, Stress
How the business game works
SimVenture Classic is a turn-based business game that operates on monthly cycles for up to 36 months. Users are challenged to turn a hobby into a  computer manufacturing company and decisions can be made in virtually all business areas. People can begin at the start-up point in month 1 or choose to use the ready-made scenarios (not available in the demo).
Integrated Help and Advice
Easily accessible help and advice is provided in many forms within the technology. You will also find video and interactive media, written guidance and 'How to' notes. Other features such as 'Multiple difficulty levels', 'Tutor alerts' and 'Random events' allow the software to be adjusted to suit different contexts, abilities and user needs.
• Key Considerations included within every page
• Tips & Traps, 'Real World' information
• Virtual Advisor
• Video Tutorials, Playing Instructions, 'Solve a Problem', Tutor Notes
• Player Hints and Tips
• Links to other Key Features and websites
• Glossary of terms
Other Business Game Features
• Multiple Difficulty Levels
• Scenarios covering a selection of business problems
• Save and Load
• Monthly Reports, Profit & Loss, Cashflow, Balance Sheet
• Historical data, Charts
• Unexpected events
• Multiple Currency options
• Custom Content, Tutor Alerts
• Interactive Business Planning Guidance and Template